KT&G Sangsang Planet is a space
for early-stage
social innovation startups to grow. Based on our knowledge and experience of supporting youth startups, Sangsang Planet was created to revitalize the ecosystem and establish a solid foundation.
Through this space, we offer unrestricted support for young entrepreneurs to learn, connect, make an impact, and change the world.
Operation of Sangsang Planet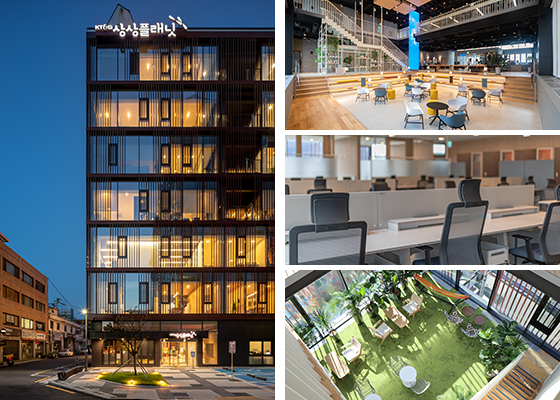 'KT&G Sangsang Planet' is a space of growth that revitalizes the youth startup ecosystem and assists young entrepreneurs who wish to generate value social value through business in establishing a solid foundation. It is located in the 'Social Venture Valley' in Seongsu-dong, a former industrial area, and we are constructing a new startup ecosystem model based on a virtuous cycle.
It consists of eight floors above ground and one basement floor, with a total floor area of approximately 4,000m2, and offers a variety of work spaces and pleasant convenience amenities. In addition, we operate a variety of programs for the development of young entrepreneurs who will transform the world through social impact.
In addition, Sangsang Planet regularly holds the 'KT&G Sangsang Startup Camp,' a practical start-up program for those who wish to solve social problems through business, and hosts the 'KT&G Sangsang Summit,' a startup forum designed to increase the understanding and participation of stakeholders in social innovation.
Go to the 'Sangsang Planet'
History of the Youth Startup Support Project
KT&G has actively implemented youth entrepreneurship support projects to combat youth unemployment and pave the way for mutually beneficial growth. The Sangsang Fund, Sangsang University, and the Asian University Student Startup Exchange Exhibition were among the various support projects that we have promoted continuously. Since 2017, the KT&G Sangsang Startup Camp, the first full-time social innovation startup launch program in Korea, has cultivated numerous entrepreneurs who will alter the course of history. Through this process, KT&G felt compelled to support social innovation startups and the social economy sector. As a result, KT&G opened and operates 'KT&G Sangsang Planet,' a space where social innovation entrepreneurs' dreams come true, for more active business development. Since then, we have fostered the development of young entrepreneurs by providing affordable space and operating a number of communities and programs.
History of the Youth Startup Support Project
2004

Asian University Student Entrepreneurship Exhibition

Sponsorship of Asia's largest and Korea's only international university student start-up competition, marking the beginning of our support for startups.

2010

Sangsang Univ

Enhancing opportunities for competency and challenges related to university student startups, including contest exhibits and other classes.

2011

Sangsang Fund

Support for self-reliance and job creation for adolescents at risk through employee donations

2017

Sangsang Startup Camp

In order to solve social problems through business, we launched a program to identify and cultivate aspiring entrepreneurs.

2020

Sangsang Planet

Opened a 'space dedicated to youth startups' in order to revitalize the ecosystem for youth startups and promote stable business operations.

2021

Presidential Commendation for "Social Economy Merit"

Received a presidential commendation for realizing social value in recognition of our support for youth startups and the socially disadvantaged.
Sangsang Planet Main Programs
Business Coaching Program 'Planet Campus'
Planet Campus is a practical training program that assists Planet Members who are early-stage social innovation entrepreneurs in expanding their business capabilities. By organizing courses according to disciplines such as marketing, impact investment (VC), taxation, and law, we facilitate the acquisition of necessary skills in the process of business expansion after establishment
Go to the 'Planet Campus Reviews'
'Community Program' for Young Entrepreneurs
We organize events and programs for Planet Members who are immersed in their work for business growth, such as 'Wellness Planet' to facilitate the management mental and physical health for Planet Members, 'Connect Planet' to enable members to form stable exchange relationships, a Tarot fortune-telling event at New Year, a Parents' Day celebration event, a Halloween 'Trick or Treat' event, and a Christmas gifts sharing event, etc.

"KT&G Sangsang Summit", a forum for social innovation startups aimed at revitalizing the startup ecosystem
The purpose of this social innovation startup forum is to promote the vitalization of the startup ecosystem. Every year since 2018, when it was first held under the theme "Social Innovation Support Measures," we have been discussing timely start-up issues and generating interest in the start-up ecosystem. It has been held at Sangsang Planet since the program's third occurrence, and since then, we have broadened the scope to include topics such as social innovation based in the Seongsu-dong area and the social innovation of future generations.
Go to the '4th KT&G Sangsang Summit video'

Full-time Social Innovation Startup Launch Program 'KT&G Sangsang Startup Camp'
It is the first full-time social innovation startup launch program in Korea for young entrepreneurs who wish to address social issues through business. The program assists young entrepreneurs in preparing for their debut as social innovation entrepreneurs by providing them with 14 weeks of hands-on training in social innovation startup knowledge. Through the operation of five bases, 745 individuals were employed by 2021, and the total sales of entrepreneurs reached KRW 20 billion.
Go to the 'Sangsang Startup Camp'

Seongsu-dong Busking Event 'Play Planet'
By extending Sangsang Madang Hongdae's cultural arts program to Seongsu-dong, this program is intended to support young entrepreneurs and facilitate communication with locals. Collaborations with a variety of artists, including the Duo of Tag Bo Nee & Kim Ji-hoon and the band 'cott', have attracted much attention. It is not limited to busking, but has also pioneered a new market through linkage with pop-up exhibitions where spectators can discover the products and services of Planet Members.
Go to the 'Play Planet video'