Direction of implementation of ethical management
Based on its corporate and management philosophy of an "upright company," "a company that is awake," and "a company that shares with customers," KT&G is pursuing "management in principle that sees long and distantly" to contribute to customers, shareholders, the country, and society. This is declaring that all members should silently perform their work based on high morality and transparency to create outcomes and fulfill their responsibility and obligation to diverse stakeholders.
Customers (Regarding customers as important/enhancing customer value) , Shareholders/investors (Shareholder value maximization/investors' interest protection ), Personnel(), (Fair performance of jobs/mutual respect/prevention of sexual harassment and protection of company assets/customer information protection and prohibition of insider trading), Company (Respect personnel/fair treatment/cultivate talents/safe work environments ), Country/society(Observance of laws/social responsibility/environment protection), Cooperative companies/competitors(Fair transactions/pursuit of mutual development )
Establishment and development of ethical management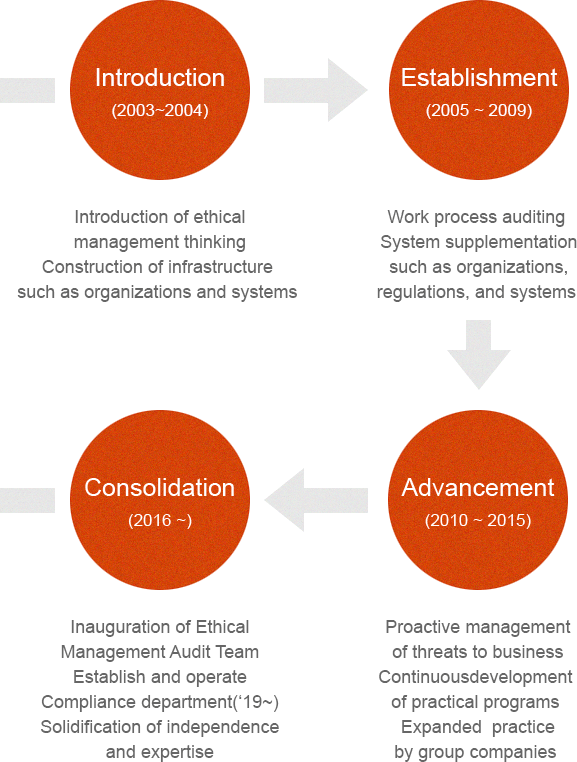 Ethical management implementation system
KT&G is constructing ethical management systems that upgrade ethical management and reinforce practice by implementing diverse activities centering on organizations dedicated to ethical management
Code of ethics
Ethics charter Value judgment criteria for
executives and staff members

Code of Ethics Code of behavior for
executives and staff members
KT&G enacted and has been following ethics charter and code of ethics as a criteria for righteous behavior and value judgment for all the executives and staff members
Practice program
Diverse programs such as an ethics oath, sexual harassment prevention activities, and the Think Twice campaign are continuously operated for KT&G personnel to establish ethical management.
Oath for ethics
Promising that they will be sufficiently acquainted with the ethics norms and ethics practice guidelines and take the lead in ethical management when they perform their work in Korea or overseas, all personnel sign a written oath for ethics at the beginning of every year.
Sexual harassment prevention activities
Sexual harassment prevention activities are being conducted to lessen the perception and practice of sexual discrimination and to form a beautiful and healthy workplace culture. In particular, sexual harassment prevention measures are prepared based on an analysis of related laws, other companies' cases, and in-house systems, and in-house cyber education is implemented once a year to enhance personnel's sense of ethics.
Think Twice campaign
By sharing events and accidents by type every six months, the attention of personnel is aroused and the recurrence of similar cases is prevented.
Dedicated organization
KT&G is engaged in activities to establish a corporate culture of ethical management under the leadership of the Sustainability Management Headquarters in order to establish the highest level of corporate ethics and to establish active ethical members.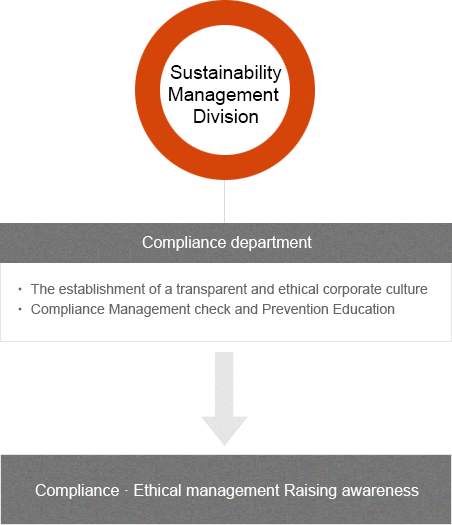 Sustainability Management Division
Compliance department

The establishment of a transparent and ethical corporate culture
Compliance Management check and Prevention Education
Compliance · Ethical management Raising awareness