KT&G pursues relentless self-innovation and continues to make progress in order to respond to the rapid market change and consumer expectations. KT&G is ceaselessly committed to R&D and investment to develop a wide array of products that cater to consumer preferences.
Focusing on New Future Growth Engine of Tobacco Business
KT&G has made it a top priority to provide better choices to consumers by expanding R&D investment and developing responsible products. To this end, we intend to establish a vision of a global top tier leap in the NGP market by 2025, and strengthen environmental/social responsibility activities on the value chain to build a sustainable growth foundation. To this end, we want to enhance future growth engines by securing world-class science capabilities and expanding our platform, and we plan to focus on increasing product eco-friendliness by developing eco-friendly materials and designing resource circulation.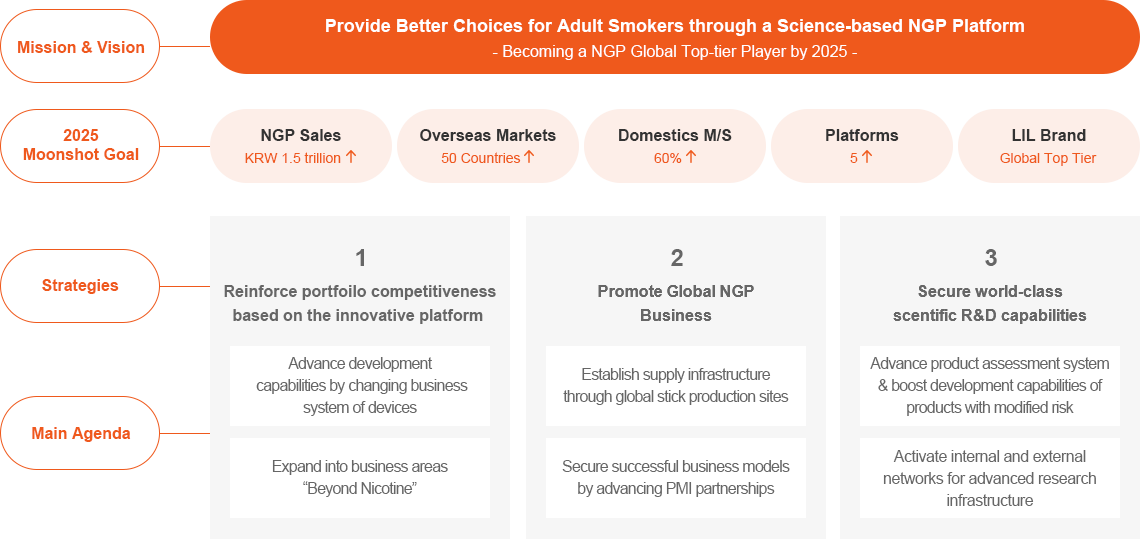 Major Activities and Achievements
KT&G has achieved continuous research performance based on the NGP infrastructure to establish a leading role and enter the global market. Also, KT&G aims to establish an independent platform by securing our patent rights. To that end, it is actively investing in domestic and foreign patents.
Amount of R&D Investment

NGP IP* Applications
* IP : Intellectual Property
NGP IP* Applications 2019-2021 * IP : Intellectual Property / Unit : EA
title
year
Overseas
Domestic
total
Patent
2019
192
188
380
2020
757
349
1106
2021
704
392
1096
Trademark
2019
1510
62
1572
2020
632
56
688
2021
337
17
354
Design
2019
244
37
281
2020
46
25
71
2021
59
28
87