KT&G extends the scope of its social responsibility management to the entire partners and provides wide-ranging physical and systematic support to ensure that all stakeholders can pursue shared growth within the sound industrial ecosystem.
Sustainability in the Supply Chain
Supplier Code of Conduct
KT&G developed the Supplier Code of Conduct to transfer its culture of social/environmental responsibility and reduce relevant risks of suppliers. The supplier code is used as a guideline for suppliers to self-check social/environmental reposibility during the supplier selection and comprehensive evaluation processes. In the future, we plan to conduct due diligence to check if suppliers comply with the Supplier Code of Conduct. We will endeavor to improve sustainability in the supply chain by requiring suppliers to correct deficiencies in social, environmental, and governance checklist, as well as their capacities for fulfilling contracts.
Supplier Quality Evaluation including ESG
KT&G considers suppliers' ESG factors such as human rights, labor conditions, environment, and ethics. So, we conduct the Supplier Quality (SQ) Evaluation including ESG-related items on main material suppliers who wish to have trade relations. Since 2011, a total 75 suppliers were evaluated, and 74 of them were qualified. The average evaluation score of suppliers including labor management was 23.6 out of 30.
Support for shared growth with material suppliers
Support for shared growth with partners
Support
Description
Financial support

Make full cash payments within 5 business days of the following month

Adjustment of purchase contract amounts

Adjust purchase contract amounts to help relieve the burden caused by cost fluctuations including increases in raw material prices

Support for sustainability management

Perform ESG assessments in selecting new partners

Sign the special provisions on business ethics in concluding contracts to help improve partners' ethical management
Support for domestic leaf tobacco farmers
KT&G purchases the entire leaf tobacco crops produced in Korea each year.
KT&G contributes to the 'Tobacco Production Stabilization Foundation' to lay a stable basis for leaf tobacco production in Korea.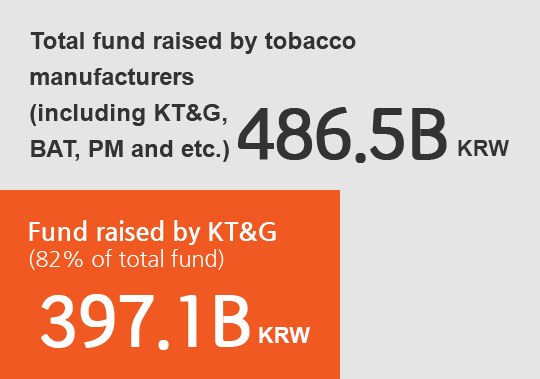 KT&G assists leaf tobacco farmers in receiving health check-ups and paying for their children's tuitions.
In addition, KT&G employees volunteer to aid farmers in harvesting leaf tobacco crops to help address the shortage of labor during the busy harvest season.
Financial Assistance to Tobacco Farms (2013~2019)