446
World's First Super-Slim Capsule Cigarette ESSE CHANGE to be Launched
2013.06.10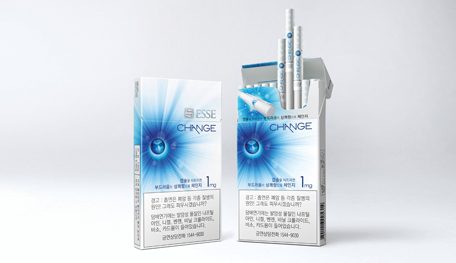 KT&G (CEO Min Young-jin) is to launch the world's first super-slim capsule cigarette, ESSE CHANGE, which allows concurrent enjoyment of two flavors through a capsule in the filter.
The distinctive feature of ESSE CHANGE is that if you burst the capsule, the mild and fresh flavor changes into a refreshing and pleasant flavor, so that consumers may choose to enjoy two flavors in one cigarette to their taste. This is a super-slim capsule cigarette that is released for the first time in the world.
For the cigarette pack, the refreshed feeling you get when the capsule bursts has been expressed with a blue color on a neat white background, and the inside top of the pack contains the image of the filter with the capsule, thereby highlighting the product's features.
As the world's No. 1 super-slim seller, ESSE's cumulative sales have reached 394.1 billion cigarettes at home and abroad up to the previous year since it was first released in 1996. Converted into length, this is equivalent to revolving around the earth 985 times and corresponds to traveling the distance back and forth between the moon and the earth 51 times.
KT&G ESSE team leader Im Wang-seop said, "For two years, efforts have been focused on R&D to apply the capsule to a slim product," adding that "KT&G's innovative technology and product development ability have been 100% incorporated in ESSE CHANGE."
The new ESSE CHANGE contains 1.0mg tar and 0.1mg nicotine. The price is ₩2,500 per pack.