445
Limited Version of BOHEM CIGAR MINI in Unique Pack Launched
2013.06.03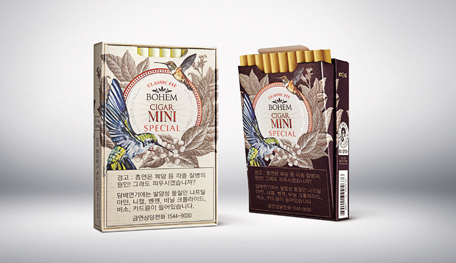 KT&G (CEO Min Young-jin) is selling for 500,000 packs of the uniquely designed BOHEM CIGAR MINI limited version for two weeks in appreciation of customers of BOHEM CIGAR MINI.
BOHEM CIGAR MINI limited version has increased consumer convenience by adopting a unique method of pushing the body of the cigarette pack open and shut instead of putting the lid back to open it as with the existing cigarette, and expressed the distinctive features of the small but substantial BOHEM CIGAR MINI by arranging the world's smallest hummingbird on the front and back of the product.
BOHEM CIGAR MINI, launched last January, is enjoying sensational popularity, mainly among young consumers, as more than 200 million cigarettes were sold in just 100 days after its launch. Its distinct feature is that it has realized a cigar's distinctive, gratifying feeling despite its super-slim size through the use of cigar leaf of South American origin for 20% of its raw material.
KT&G BOHEM team leader Kwon Min-seok said, BOHEM CIGAR MINI limited version was manually produced through the whole process, from the stage of making cigarette packs to the packaging stage," adding that "our thanks to our customers for their unfailing love of BOHEM CIGAR MINI are expressed in it."
BOHEM CIGAR MIN limited version is launched in two types as with the existing products, with 1mg and 5mg tar content. The selling price is also ₩2,500 per pack.