494
KT&G Holds Self-Publishing Exhibition 'ABOUT BOOKS'
2013.05.30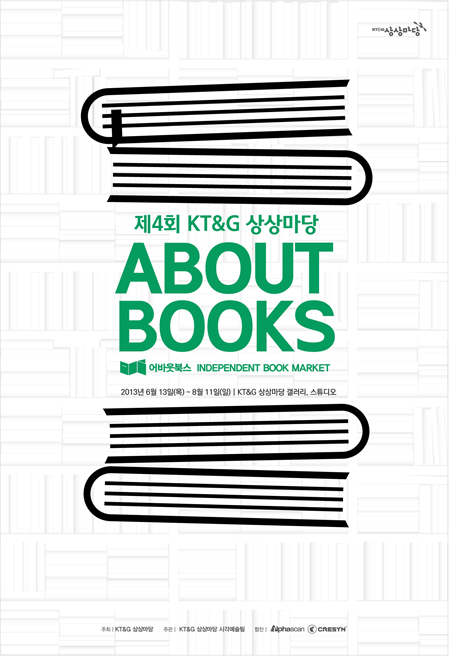 KT&G (CEO Min Young-jin) is to hold a self-publishing exhibition, "ABOUT BOOKS," with various self-publications on display in KT&G Sangsang Madang in Seogyo-dong, Seoul from June 13 to August 11.
Self-publications are planned and produced by the writers themselves, and have been getting attention recently, mainly from young people, for their unusual planning and materials that are rarely found in existing publications. Their formats and contents are wide-ranging, enough to cover art books, project books, personal essays, magazines, etc.
"KT&G ABOUT BOOKS in Sangsang Madang" is the only exhibition in Korea that collects and introduces self-publications in one place. First started in 2010, this is its fourth year. More than 500 self-publication titles selected through an open recruitment for the previous month will be introduced and sold.
Meanwhile, this exhibition features a corner dubbed "Yesterday's Magazines Opened to Read Today" that has collected interviews with the editors-in-chief and editors of culture magazines published since 1990 who have left significant legacies. This corner consists of stories about five personages: Jung Seong-il, the editor-in-chief of the film magazine "Kino," Kim Sun-mi, editor of the corporate culture marketing magazine "TTL," Kim Young-ju, editor-in-chief of the culture magazine "Imagine," Park Sung-tae, editor-in-chief of the street magazine "In Seoul Magazine," and Kim Min-gyu, editor of the music magazine "SUB."
In addition, more than 100 titles of Japanese self-publications selected through an open recruitment for one month in May will be on exhibit, and a workshop in which visitors can try to make their own publications is scheduled.