KT&G Scholarship Foundation Awards 'Global Artist' Scholarships
2023.08.28
The KT&G Scholarship Foundation is pleased to unveil Lee Chae-eun and Jeon Min-chul as the first recipients of its newly instituted 'Global Artist Support Program,' each receiving a scholarship grant of 5 million won.
The 'Global Artist Support Program' is a newly established initiative to facilitate the continued growth of cultural and arts scholarship students who have won international competitions. Both Lee Chae-eun, who clinched the first position in the junior division, and Jeon Min-chul, who achieved third place in the senior division and first in the Pas de Deux category at the '2023 Youth America Grand Prix' international ballet competition, exemplify the program's purpose and potential.
Since its initiation in 2016, the Foundation's 'Cultural Arts Scholarship Program' has been committed to nurturing budding talents across diverse art disciplines, including music, ballet, traditional arts, and visual arts. The program has a strong record of selecting 236 scholars and allocating scholarship funds exceeding 1.2 billion won.
A hallmark success story of the Foundation's investment in arts education is Lim Yoon-chan, who emerged as the youngest winner ever at the esteemed 'Van Cliburn International Piano Competition' last year. Lim has been a beneficiary of the Foundation's scholarship program since 2017 and has been supported for three consecutive years.
Further solidifying the impact of the scholarship offerings, Jeon Ji-yul, another recipient, earned an audition opportunity for the Monaco Royal Ballet School after participating in a 'Ballet Master Class' facilitated by the Foundation in 2022. She successfully cleared the audition and is currently pursuing her studies overseas.
A spokesperson for the KT&G Scholarship Foundation stated, "The Global Artist Support Program was strategically added to our portfolio of existing scholarship initiatives to build a sustainable platform for our culturally adept scholars, particularly those demonstrating international competence. Our resolve remains unswerving in identifying and cultivating artistic talent, contributing materially to enhancing the domestic cultural and arts sector."
The KT&G Scholarship Foundation was founded in 2008 as part of KT&G's corporate mission to be 'A Company that Grows Together.' The Foundation has been at the forefront of offering diverse scholarship programs in Korea and internationally, focusing on empowering marginalized educational communities and fostering future leaders. Cumulatively, the Foundation has disbursed an impressive 39.5 billion won in scholarship grants to 8,679 beneficiaries as of last year.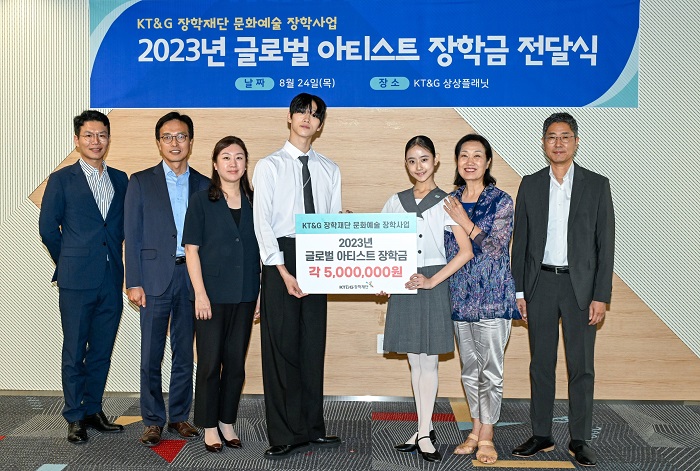 (Photo Caption) Captured here are the inaugural recipients of the Foundation's 'Global Artist Support Program,' cultural arts scholars Jeon Min-chul (fourth from the left) and Lee Chae-eun (third from the right), alongside Shim Young-ah, Director of KT&G's Social Contributions Division (third from the left), and Ahn Hong-pil, Secretary-General of the KT&G Scholarship Foundation (first from the right), during the scholarship presentation ceremony.