488
KT&G Recruits Undergraduate Volunteers for 'Hope-Boosting Correspondents to Cambodia'
2013.05.02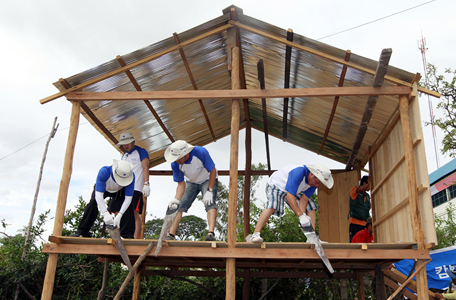 KT&G (CEO Min Young-jin) will recruit, by May 22, the second class of undergraduate volunteers for the program "Hope-Boosting Correspondents to Cambodia," who will do volunteer work in Cambodia.
Undergraduates who wish to apply may form a team of five persons, access the KT&G Facebook page (www.facebook.com/kgngcorp), and fill out an application form, including items of talent donation. First, 10 teams will be selected based on the combined results of the number of recommendations and evaluation scores. After that, the final two teams are planned to be selected through in-depth interviews.
Finally, those selected for "Hope-Boosting Correspondents to Cambodia" will do volunteer work, such as the expansion and repair of school facilities in elementary schools, in the Siem Reap area of Cambodia for about two weeks, from July 22 until August 3. In addition, they are scheduled to carry out volunteer work such as providing education and donating their talents to the local children.
A KT&G official said, "Cambodia's overall educational conditions are very poor due to its abject poverty and inadequate school facilities," adding that "we hope this program will provide opportunities for the undergraduate volunteers to be interested in the world's poor countries and to grow into talented persons who practice sharing."
KT&G has sent volunteer groups to the Siem Reap village in Cambodia each year since 2009, and carried out volunteer work such as building floating houses, providing daily necessities, improving the living environment, and providing education to children.