491
KT&G Sangsangmadang Busan Recruiting Contestants for the "Sangsang Motion Graphics Challenge"
2022.07.05
KT&G Sangsangmadang Busan is seeking applicants for the "Sangsang Motion Graphics Challenge," a competition that identifies and supports young graphic designers in Busan, Ulsan, and Gyeongnam.
This competition was organized by KT&G Sangsangmadang to promote the development of employability among young people and to enhance local coexistence. There are no restrictions on the use of Busan tourism-related materials, and the theme of the contest is "Busan, a Place Where Imagination is Realized," which can be expressed in motion graphics using any combination of the exterior, performance hall, and accommodations at KT&G Sangsangmadang Busan.
Applications are being accepted on the KT&G Sangsangmadang website ( https://
www.sangsangmadang.com
) from July 5 through September 25. The contest is open to all residents of Busan, Ulsan, and Gyeongnam (based on their address on the resident registration date on the application start date) who are under the age of 39.
Topical appropriateness, usability of the software, originality, etc., are all taken into account during the grading process. After all of the necessary documents have been submitted, the first and second screenings will take place in the month of October, and the top five finalists will be chosen at the end of November. The winners will receive perks like cash prizes, exposure for their art on KT&G's online and offline platforms, and a 'Sangsangmadang Busan Artists Membership'.
"This contest was planned to provide more diverse opportunities for young people who want to pursue their dreams as designers," said a representative from KT&G Sangsangmadang Busan. Along with that, he added, "We hope that the ideas of the contest will be used meaningfully in the local community, and we hope that the participants will grow into artists representing the region."
After Hongdae, Nonsan, Chuncheon, and Daechi, Sangsangmadang Busan is the fifth complex cultural space in the country to be established by KT&G. It is the largest of the active Sangsang Madang locations, and it houses a creation center for creators, a youth support area, and cultural facilities where you can enjoy design, performances, and exhibitions. There are also accommodations available where visitors can enjoy culture and relaxation.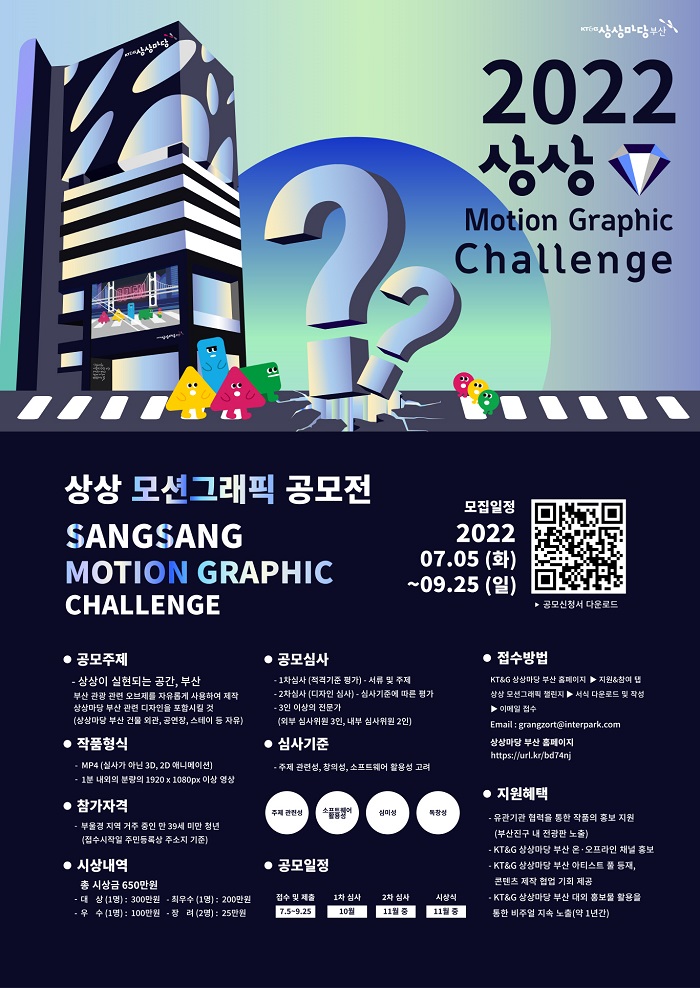 (Photo description) KT&G Sangsang Madang Busan 'Sangsang Motion Graphics Challenge' participant recruitment poster