489
Recruitment for the KT&G, Sangsang Univ. Student Management Team '15th Sangsang Friends'
2022.06.27
KT&G (President Baek Bok-in) is recruiting for the '15th Sangsang Friends,' a university student management team that plans and operates various programs for 'Sangsang Univ.,' a university student community.
Recruitment will take place on the Sangsang Univ. website (
www.sangsanguniv.com
) until August 6th. Any university student or student on leave of absence can apply, and the 192 finalists will represent Sangsang Univ. for four months beginning in September.
Students chosen for the '15th Sangsang Friends' program directly plan and operate programs such as culture, art, and volunteer work appropriate for each region, as well as create social media content and promotional videos to promote the program. In addition, a portion of monthly activity expenses are covered, and specialized training for program planning and operation is provided.
"Sangsang Univ. is KT&G's original social contribution platform that creates social value with the imagination of college students," a KT&G official explained. "Based on empathy for college students' concerns and needs, we will continue to support them so that they can grow through various experiences and exchanges," he added.
KT&G has been operating the 'Sangsang Univ.' university student community since 2010 to provide university students with opportunities to experience and learn in a variety of fields. We provide a forum for exchange where college students can grow through representative programs such as 'classes,' 'festivals,' and'regional-specialized programs' with various themes independently operated in 13 regions across the country, 'Marketing School,' and 'House/Prefecture/Jeon' for university students across the country.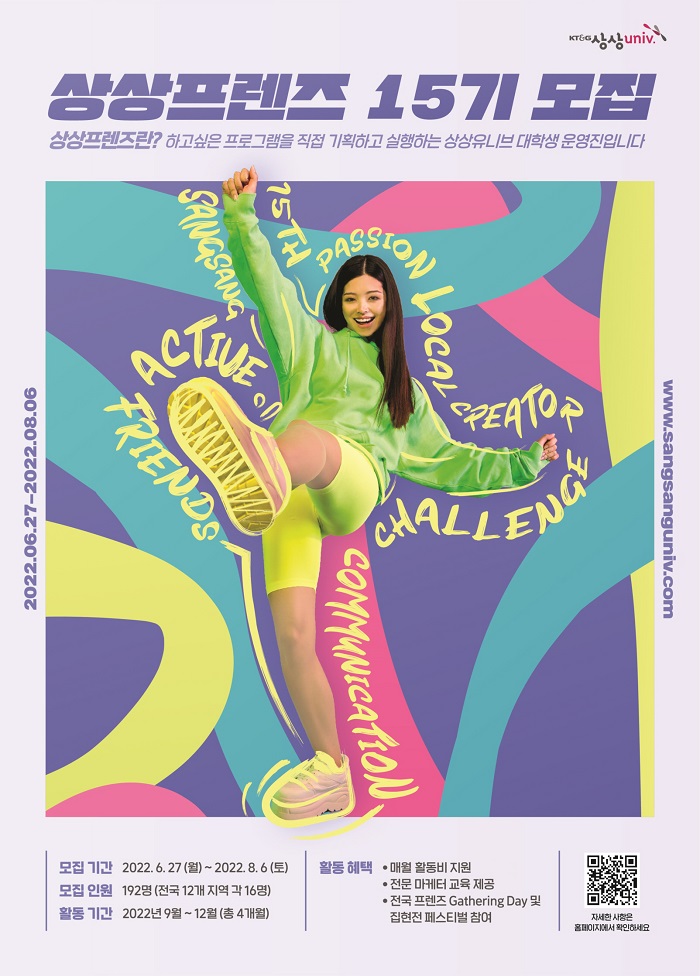 (Photo description) 15th Sangsang Friends' recruitment poster