444
KT&G Sangsangmadang to Introduce Eco-friendly Cultural Program
2021.06.29
In 'Sangsangmadang Hongdae', 'Chuncheon', and 'Daechi', which are complex cultural and art spaces operated by KT&G (President Baek Bok-in) as part of its philanthropic activities, cultural programs conveying messages of environmental protection such as 'upcycling pop-up stores' and exhibitions are being presented.
In commemoration of 'World Environment Day (6/5)', KT&G Sangsangmadang is raising awareness regarding the seriousness of environmental damage and the importance of resource circulation in various ways, utilizing the strengths of its culture and art spaces.
'Sangsangmadang Hongdae' will operate a 'Trash That's No Longer Trash' pop-up store that introduces various and novel upcycled products until August 1st. This pop-up store was established to raise awareness about recycling and to promote the importance of eco-friendly consumption for the planet. 'Sangsangmadang Chuncheon' is also operating various eco-friendly cultural experience programs for local residents such as 'Reusable Tumbler Design' and 'Biodegradable Bag Drawing' along with upcycling pop-up stores.
Sangsangmadang Daechi Art Hall is hosting the upcycling exhibition Tears of the Polar Bear. The art hall is located on the first floor of KT&G Seoul's office building, where visitors can come in and appreciate artworks at any time, and this special exhibition conveys the message of environmental protection in an easy and friendly way through environment-related videos and polar bear sculptures made of non-recyclable materials. In addition, the 'NO Plastic, YES Glass' event, in which glass cups are presented to visitors through collaboration with 'Glasslock', will also be held.
'Sangsangmadang Busan Stay Hotel' and 'Chuncheon Stay Hotel', which are accommodations operated by Sangsangmadang, have declared their transition to 'Green Stay' in which disposable items are converted eco-friendly products and presented to guests.
Meanwhile, KT&G is amping up on its environmental, social and corporate governance (ESG) efforts by implementing environmental management considering a sustainable future. Last month, the company unveiled its 'Mid- and Long-term Environmental Management Vision' and declared that it would be "carbon neutral by 2050" to respond to the climate change crisis. In addition, the company participated in the 'K-EV100' declaration in April and announced its plan to reduce greenhouse gas emissions by more than 20,000 tons by converting all 1,200 business vehicles to eco-friendly vehicles such as electric vehicles by 2030.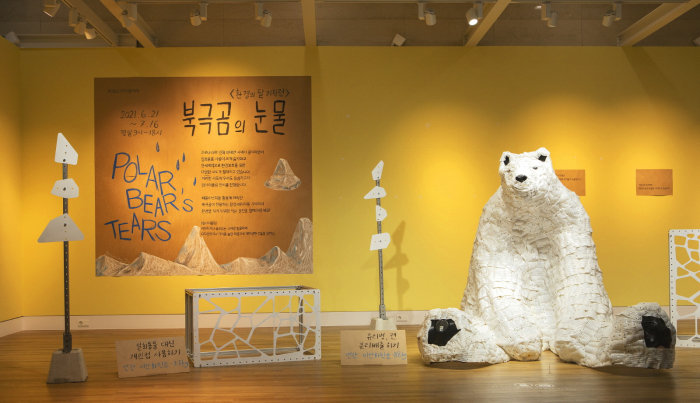 (Description) Photo from the upcycling exhibition Tears of a Polar Bear in progress at 'Sangsangmadang Daechi Art Hall'

(Description) Photo from the upcycling exhibition Tears of a Polar Bear in progress at 'Sangsangmadang Daechi Art Hall'