KT&G Leads Flower Farm Support with the "Happy Family for a Happy Company" Program
2021.05.18
KT&G (CEO Baek Bok In) is operating a program called "Happy Family for a Happy Company" as a means to support flower farms that are experiencing reduced sales from COVID-19. It is a program that sends flower baskets to company executives, employees, and their families.
Baek Bok In, CEO of KT&G, has been taking part in a relay campaign to help flower farms since early last year when graduation and entrance ceremonies, as well as other events and gatherings, were cancelled or simplified. He has since been taking the initiative to support flower farms through various events that provide flowers as gifts.
KT&G provided flower baskets and cards with words of encouragement on Children's Day, Parents' Day, and Spouses'Day. It also put together an employee volunteer crew to help flower farms that need a helping hand.
Also, the company sent congratulatory flowers to employees' children who entered elementary, middle, or high school this year. The company also sent a stretch mark cream set and prenatal care set with a flower basket to pregnant employees as a means to promote flower demand.
KT&G's support of flower farms is in line with the company program called, "Happy Family for a Happy Company". The name of the program conveys the concept that peace in the household leads to a successful company. This program is one of KT&G's most popular family-friendly programs that is comprised of various contents, including congratulatory gifts for kids entering school, career counseling for middle school students, and vow renewals for parents.
An official from KT&G said, "I hope this helps flower farms that are experiencing difficulties with dropping demand in flowers. The company will actively participate in resolving social issues, fulfilling their role in terms of social responsibility as a corporate citizen."
Aside from their program for flower farms, KT&G is also continuing various support programs to combat COVID-19. It charitably distributed 300 million KRW worth of lunchboxes through the "Sangsang Sharing" lunchbox event. It is also operating the Lunch Family Program, which purchases lunches from local markets for employees.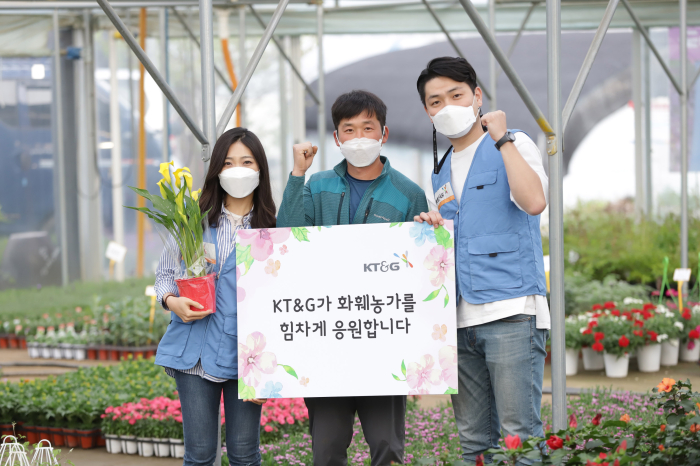 (Picture) KT&G employee volunteer group with a farmer at a flower farm.
(Picture) KT&G employee volunteer group helping work at a flower farm.