452
KT & G Scholarship Foundation, recruiting scholarship students who are children of sm
2020.05.25
The KT&G Scholarship Foundation is recruiting students for the '2020 Emergency Support Scholarship for Children of Small Business Families' to support small businesses in economic difficulties due to the impact of COVID-19.
This recruitment is conducted for the purpose of emergency aid for the Daegu and Gyeongbuk area, which experienced severe losses from the spread of COVID-19. It is a temporary scholarship project implemented in order to participate in solving the national crisis.
It targets middle and high school students from small business families in the Daegu and Gyeongbuk area with an income of 70% or less than the average basic income of 2020. The number of students to receive support is 100 people, and a total of 100 million won worth of scholarships will be delivered, thus providing a 1 million won support per person. The application period spans from May 27th to June 12th on the KT&G Scholarship Foundation homepage (https://scholarship.ktngtogether.com/). After receiving the applications, the final beneficiaries will be selected through a fair examination and the results will be announced on June 30.
The KT&G Scholarship Foundation is a public interest corporation established in 2008 by KT&G in order to practice its management philosophy of "A company that goes together". The Foundation has continued to provide scholarship projects to help outstanding students not to give up on their studies due to social or economic reasons. The total number of students who benefited until last year is about 4,600, and support hitherto given amounts to 29.4 billion won.
Last April, KT&G Scholarship Foundation conducted a '2020 University Imagination Scholarship Student' recruitment which granted scholarships worth 800 million won to university students from low-income families. Scholarships were previously given in portions according to the student's semester grades. In this instance, however, the selected students will be provided with all of the scholarships in the first half of the year. Smart devices to support remote education will also be provided.
Personnel from the KT&G Scholarship Foundation said, "We look forward to the participation of many students from small business families in the Daegu and Gyeongbuk area who are in difficult situations due to COVId-19. We will continue to carry out various support activities to resolve academic imbalances in the future and provide stable educational opportunities for the educationally underprivileged."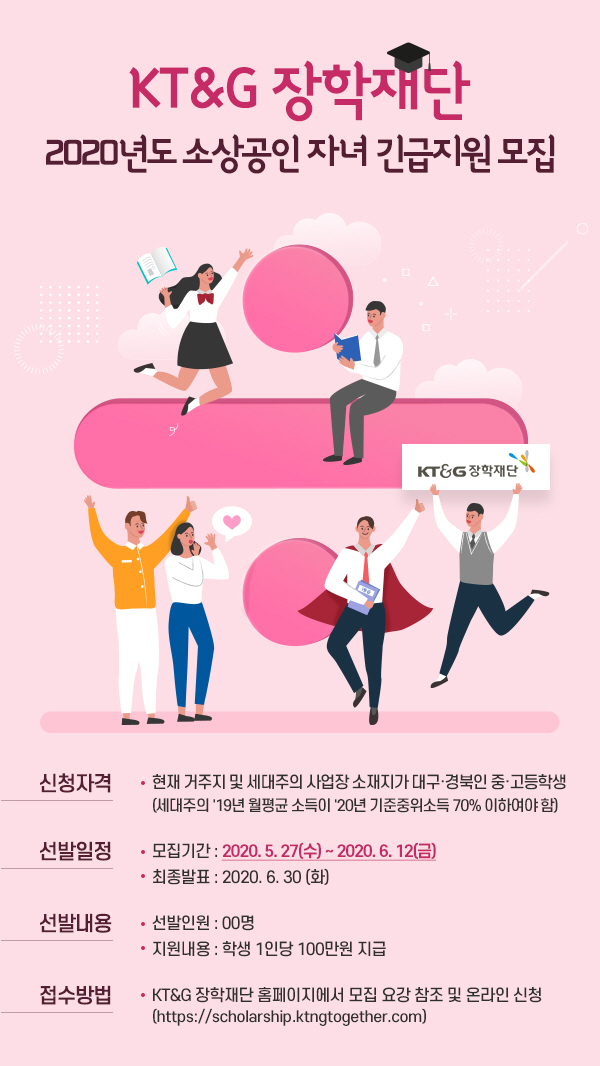 <'2020 Emergency Support Scholarship Recruitment for Children of Small Business Families' Poster>