449
KT&G Develops 'Aromatic Capsule' in Partnership with an SME
2013.06.25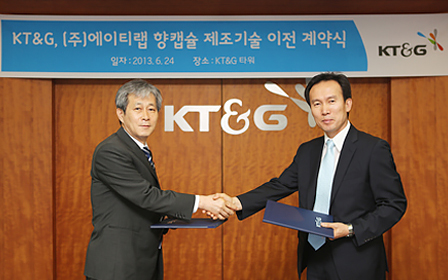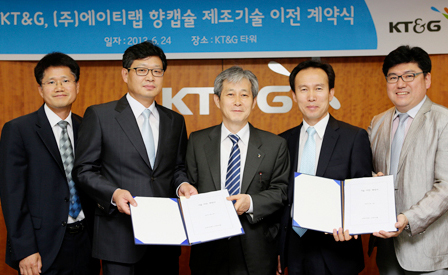 KT&G (CEO Min Young-jin) has jointly developed the "Seamless Aromatic Capsule" for cigarette filters in partnership with the venture company ATLAB and concluded a technology transfer agreement on June 24.
This capsule wraps the raw material mixed with flavoring and natural oil in a thin film with a seamless line, and when the capsule in the cigarette filter bursts, a distinctive flavor is brought out. So far, KT&G has been dependent on import of all the capsules required for cigarette manufacturing because there is no commercialized technology.
KT&G has succeeded in the development of the capsule after six months of joint research with ATLAB, with the support of research grant to ATLAB totaling more than ₩400 million in order to apply ATLAB's technology of manufacturing aromatic capsules for cosmetics to cigarette filters. KT&G has used this relationship as an opportunity to produce its own aromatic capsules, thus being able to reduce costs and foreign currency needs, and ATLAB has gained a foothold in making an entry into related markets estimated to be several ten billion won through the accumulation of application technologies.
ATLAB CEO Kim Young-taek said, "This joint development with KT&G represents a good example of having created synergy through a win-win cooperation between the two companies," adding that "we hope henceforward that this kind of collaboration system between a large company and an SME with respect to support for R&D and market exploration will spread across the industry to increase national competitiveness."
In addition to the development of aromatic capsules, KT&G has jointly developed cigarette materials, including filters, with two SMEs, such as KPT last year and early this year, to use for its products. KT&G has continued to practice its win-win management to realize mutual growth with SMEs, such as cash payments for subcontractors' deliveries and sharing the profits generated from exceeding target cost goals with partner companies.


※ Comparison of the Costs of Imports vs. Domestic Production
| | | | |
| --- | --- | --- | --- |
| Division | Import Unit Price | Unit Price of Domestic Production | Remark |
| Cost(₩/Kg) | 191,000 | 76,000 | Approx. 60% of import cost is saved. |

Previous
No previous text.