KT&G Successfully Concludes University Students' Networking Festival 'Sangsang Village Festival'
2023.09.19
KT&G (CEO Baek Bok-in) has successfully wrapped up its networking festival for university students, the 'Sangsang Village Festival.' Held in Jincheon, Chungbuk, from the 16th to the 17th, this two-day event saw participation from over 500 students representing a total of 170 teams.
Introduced this year by KT&G Sangsang Univ., the 'Sangsang Village Festival' is an interactive festival where university students from across the nation gather and co-create. Instead of being mere spectators, participants become residents of the 'Sangsang Village,' forging a community where they network and communicate. They engage in various activities, earning a unique currency called 'Sangsang Notes' and exchanging goods and skills, thereby driving the festival self-sufficiently.
This program encouraged students exhausted from academic studies and job preparations. It was particularly planned to offer a unique experience for the youth, who currently have fewer opportunities for community building and bonding due to increased remote activities. Any student participating in Sangsang Univ. programs or registered on their website is eligible to join.
This year's 'Sangsang Village Festival' was themed around 'Fortune' to support youth. Participants enjoyed programs under three themes: 'Fortune Gathering Zone' with diverse experience-based activities, 'Fortune Recharging Zone' for relaxation while admiring the wind, sunset, and stars, and 'Fortune Networking Zone' for skill-sharing and communication. The 'Fortune Concert' featured performances by artists '10cm', 'So Soo bin,' and university student artists introduced by 'Sangsang Jiphyeonjeon,' adding enthusiasm to the festival.
Lee Si-hyung, the Head of KT&G Univ Operations, commented, "Thanks to the enthusiastic participation of the university students, we were able to conclude the festival successfully. We hope this co-created festival has been an opportunity for the weary youth to rejuvenate and grow."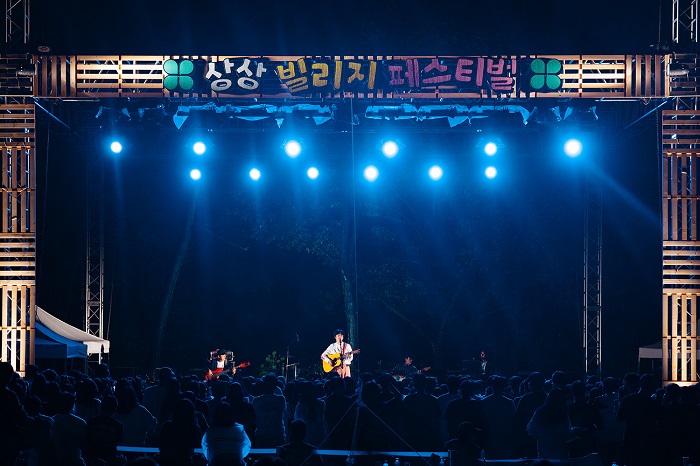 (Photo Description 1) KT&G has successfully concluded the university student networking festival 'Sangsang Village Festival.' The photo depicts participants watching the 'Fortune Concert' featuring artists '10cm', 'So Soo bin,' and university student artists from 'Sangsang Jiphyeonjeon.'
(Photo Description 2) KT&G has successfully concluded the university student networking festival 'Sangsang Village Festival.' The photo shows participants enjoying experiential programs in the 'Fortune Gathering Zone.'