KT&G, Acquired the official certificate for 'Authorized Economic Operator(AEO)'
2023.05.18
KT&G (CEO Baek Bok In) has acquired official certification as an Authorized Economic Operator (AEO), which is supervised by the Korea Customs Service.
AEO is an international standard certification system in which the Korea Customs Service selects excellent companies based on the export and import safety management standards of the World Customs Organization (WCO), compliance with laws · internal control system · financial soundness · safety management are subject to review.
The 'Certificate presentation ceremony for Authorized Economic Operator' was held on the 17th, at the Seoul Headquarters Customs in Gangnam-gu, Seoul, and KT&G acquired the certification for the first time this year.
By acquiring the AEO certification, KT&G is guaranteed with comprehensive benefits in various customs administrations, such as speedy customs clearance and reduced inspection of imported and exported goods. In particular, KT&G plans to further accelerate its global exports and market expansion as its major export destinations, the UAE, Indonesia, and Tunisia, will receive the same benefits for customs clearance procedures as in Korea under the Mutual Recognition Arrangement (MRA).
KT&G officials said, "We expect to be able to deliver products to our domestic and foreign customers more quickly under challenging trade conditions, such as rising protectionism and non-tariff barriers," and added, "in the future, we will acquire additional local AEO certifications for our foreign subsidiaries to strengthen our import and export competitiveness and accelerate our leap to becoming a global top-tier company.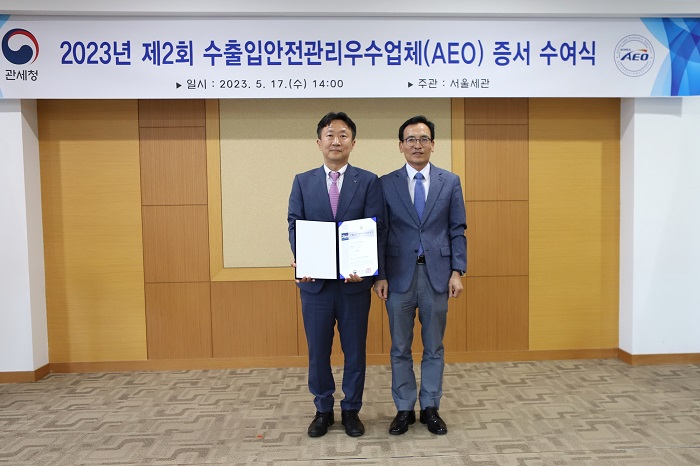 (Photo description) KT&G acquired the official certificate for Authorized Economic Operator (AEO) that is supervised by the Korea Customs Service. The photo is of Kim Yong Beom, head of KT&G Finance Office (left), and Jeong Seung Hwan, head of the Seoul headquarters of Korea Customs Service (right), taking a commemorative photo at the 'Certificate presentation ceremony for Authorized Economic Operator' held on the 17th, at the Seoul Headquarters Customs in Gangnam-gu, Seoul