KT&G Scholarship Foundation Recruits 'Sangsang Scholarship Students' from Socially Vulnerable Groups in 2023
2023.04.26
KT&G Scholarship Foundation is recruiting 'Sangsang Scholarship Students' to provide equal learning opportunities for socially vulnerable teenagers in 2023.
'2023 Sangsang Scholarship for Middle and High School Students' is for basic livelihood recipients and low-income students in middle and high schools according to the National Basic Living Security Act, and applications can be submitted through the KT&G Scholarship Foundation website ( https://scholarship.ktngtogether.com ) until May 15th. Selected scholarship students will receive a total of KRW 700 million in scholarships, including KRW 1 million per year for middle school students and KRW 2 million per year for high school students, and they can receive scholarship benefits for up to three years after passing an annual qualification review.
In addition, KT&G Scholarship Foundation is currently recruiting college students from economically vulnerable backgrounds for the '2023 Sangsang Scholarships Program', which started on April 19th. The application deadline is May 3rd, and the selected 200 college scholarship students will receive a scholarship of KRW 3 million each. Details can be found on the KT&G Scholarship Foundation website.
An Hong-pil, head of the KT&G Scholarship Foundation, said, "We will continue various scholarship programs in different fields so that teenagers with big dreams and potential can have the opportunity to learn what they want in a stable environment." He added, "We will spare no effort to support the growth of future leaders, so that the KT&G Scholarship Foundation can contribute to leading the future."
The KT&G Scholarship Foundation public interest corporation established in 2008 to practice the management philosophy of "a Company that Works Together," conducts various scholarship programs domestically and internationally to support the education of the underprivileged and cultivate future talent. In addition, together with the Korea Mecenat Association, we annually select and support scholarship students in the field of culture and art, thereby contributing to the discovery of exceptional young artists. Since the foundation's inception, over 9,700 students had received assistance as of the end of 2022, and 39.5 billion won has been provided in scholarships.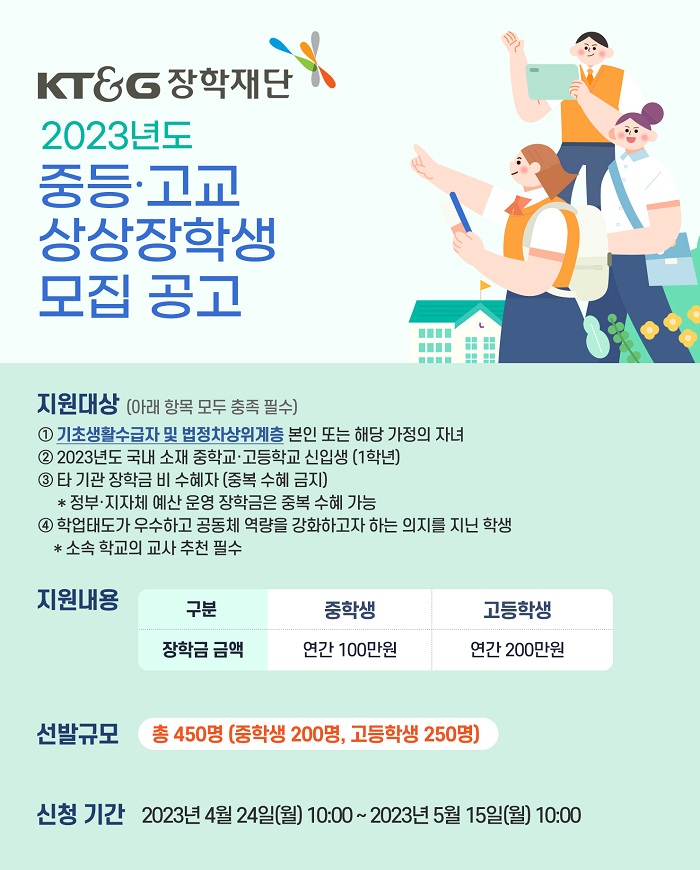 (Photo Description) Poster for '2023 Sangsang Scholarships for Middle and High School Students' recruitment