KT&G Sangsang Madang Busan Holds '3rd ARTISTART' Exhibition
2023.02.23
From February 28 to March 26, KT&G Sangsang Madang Busan will host the '3rd ARTISTART' exhibition to showcase the works of pre-graduating students from the fine arts departments of local universities.
Since 2021, KT&G Sangsang Madang Busan has held the 'ARTISTART' local artist support program annually in order to discover new artists in Busan and Gyeongnam.
At this event, sponsored by Busan Metropolitan City and hosted by KT&G Sangsangmadang Busan, a total of 123 works by 64 graduates-to-be from eight universities, including Pusan National University and Kyungnam University, will be displayed at three venues: KT&G Sangsang Madang Busan and Piark, a complex cultural space in Yeongdo-gu, Busan. KT&G Sangsang Madang Daechi Gallery will exhibit the outstanding works selected from the ARTISTART Exhibition after it concludes.
An official at KT&G said, "ARTISTART is a program that identifies new artists in the region and promotes the professional development of aspiring artists through exhibitions. We will continue to actively promote the discovery and development of new cultural artists."
Meanwhile, KT&G Sangsang Madang is a complex cultural art space that supports the creative endeavors of emerging artists and offers the public a vast array of cultural experiences. Beginning in 2007 with 'Sangsang Madang Hongdae,' KT&G operates Sangsang Madang in five locations, including Nonsan, Chuncheon, Daechi, and Busan, contributing to the expansion of the cultural arts base and the growth of local culture. Currently, Sangsang Madang receives approximately 2 million visitors and operates approximately 3,000 cultural and artistic programs annually.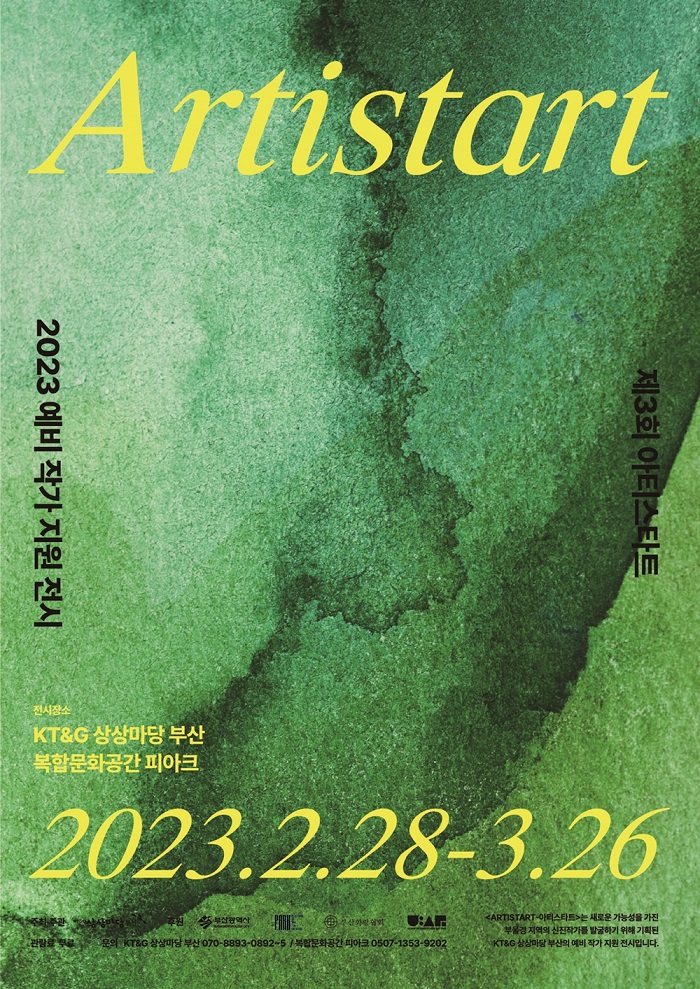 (Photo description) Poster for the "3rd ARTISTART" exhibition, which is supported by aspiring local artists.