KT&G Sangsang Madang Space Provision Program, 'Performance Challenge' Contest
2023.02.16
Until March 5, KT&G Sangsang Madang is accepting submissions for the "Performance Challenge" space provision program.
The KT&G Sangsang Madang Daechi Art Hall performance hall and equipment such as sound and lighting will be provided free of charge for the works ultimately selected through this competition for up to one week per piece of work from June 12 to July 9.
Production companies, groups, and students in Korea who are majoring in creative performances are all welcome to apply. If chosen, the winner of the contest can put the advantages to many different uses, such as using the space and equipment for major performances, showcases, readings (script readings), and rehearsal.
This is the fourth "Performance Challenge" held since 2021 in an effort to revitalize the domestic performance culture. In last year's contest, the musical "Gyeongin Line" and the play "Base Note" were ultimately chosen and performed successfully.
Detailed information about the contest can be found on the KT&G Sangsang Madang website, and those who wish to apply for the contest can consult the KT&G Sangsangmadang Daechi Art Hall website in advance.
An official at KT&G commented, "Through the 'Performance Challenge,' KT&G has discovered and supported innovative and artistic performance works." He added, "We will continue to utilize the infrastructure of 'Sangsang Madang' to support the stability of art producers' activities and contribute to the revitalization of domestic performance culture."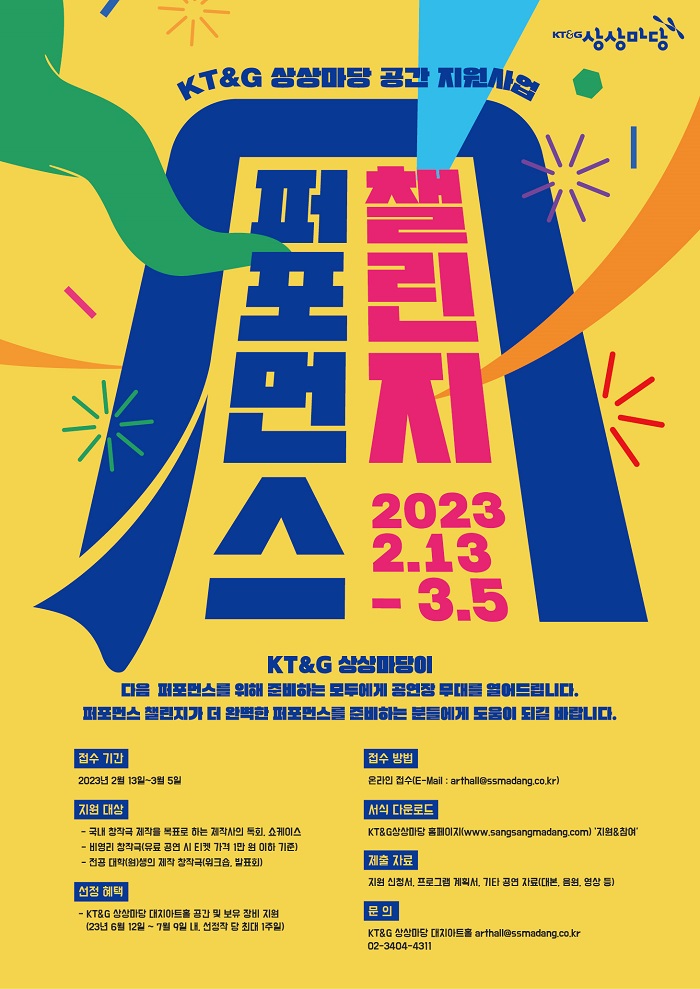 (Photo description) Until March 5, KT&G Sangsang Madang is accepting submissions for the "Performance Challenge" space provision program. The photo depicts a poster for the "Performance Challenge."