KT&G Scholarship Foundation Opens Call for Applications for 'Cultural Arts Scholarship' to Foster Global Ballet Prodigies
2022.04.18
The KT&G Scholarship Foundation, in collaboration with the Korea Mecenat Association and the World Ballet Leaders Council, is actively recruiting culture and art scholarship students until the 27th in order to identify and cultivate youth talent in the field of dance (ballet).
The 'KT&G Scholarship Foundation Culture and Arts Scholarship Project' is intended to foster the development of talented young people into internationally active artists. Since 2016, the KT&G Scholarship Foundation and the Korea Mecenat Association have awarded 5 million won per person to scholarship students in the fields of dance, music, traditional arts, and fine arts; this year, there are plans to award 200 million won to a total of 40 scholarship students.
Ballet majors from the first year of middle school to the third year of high school are eligible to apply. Send your application form and demonstration video to ballet@mecenat.or.kr via email by April 27. In May, applicants who pass the initial screening will be chosen as the final scholarship recipients through open auditions.
A representative of the KT&G Scholarship Foundation stated, "Students who were awarded culture and arts scholarships are already active on various world stages and promoting the excellence of K-Art. We will continue to show interest and provide various forms of support."
Meanwhile, the KT&G Scholarship Foundation, a public interest corporation established in 2008 to practice KT&G's management philosophy of being a "company with the people," is actively implementing various scholarship projects domestically and internationally so that students do not abandon their education due to social and economic concerns. In April, middle and high school Sangsang scholarship recipients were chosen and 700 million won in scholarships was distributed. Since the foundation's inception, a total of 9,700 students have received assistance, and 37.5 billion won has been provided in scholarships.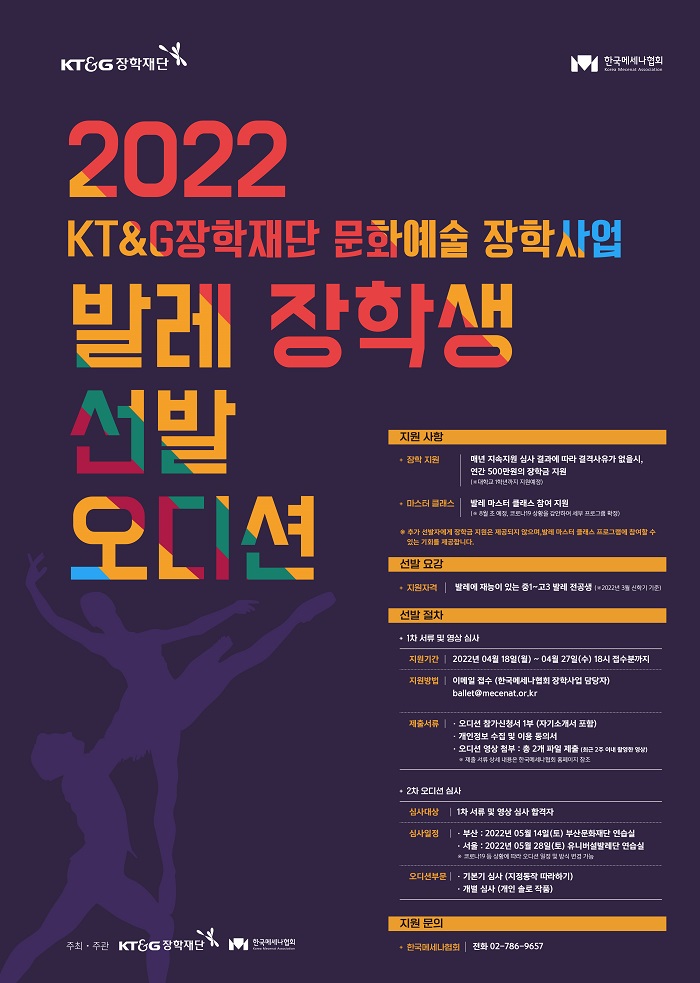 (Photo Description) 2022 KT&G Scholarship Foundation Culture and Art Award Poster for the Project Ballet Scholarship Auditions