500
Competition Entries for KT&G Sangsangmadang's 14th Amazing Short Film Festival
2022.09.06
KT&G (President Baek Bok-in) will hold a contest for the 14th Amazing Short Film Festival, which sheds light on the past, present, and future of South Korea's short films.
Marking its 14th anniversary this year, the Amazing Short Film Festival is a cultural contribution program that KT&G's Sangsangmadang has been conducting since 2007 to discover and support leading short films in South Korea.
The contest will be held from the 7th to the 21st for short films that are less than 20 minutes and produced after June 1, 2019; applicants can submit them through the KT&G Sangsangmadang website. ( https://
www.sangsangmadang.com
).
The works selected through the preliminary screening will be shown at the film festival held at KT&G's Sangsangmadang Cinema from November 15 to 20. A total of 15 million won in prize money and trophies will be awarded to the winners of two outstanding works selected through audience evaluation and screening by professional committee members.
Ji Hyo-seok, the head of KT&G's Cultural Contribution Department, said, "The Amazing Short Film Festival has contributed to the expansion of the base of Korea's independent films and has established itself as a gateway for new film directors and actors."
Meanwhile, KT&G's Sangsangmadang has supported the creative activities of new artists and provided a wide range of cultural experiences for the public. Starting with "Sangsangmadang Hongdae" in 2007, Sangsangmadang was introduced one after another in Nonsan, Chuncheon, Daechi, and Busan, and has grown into a cultural mecca with 1.8 million annual visitors and 3,000 cultural and artistic programs every year.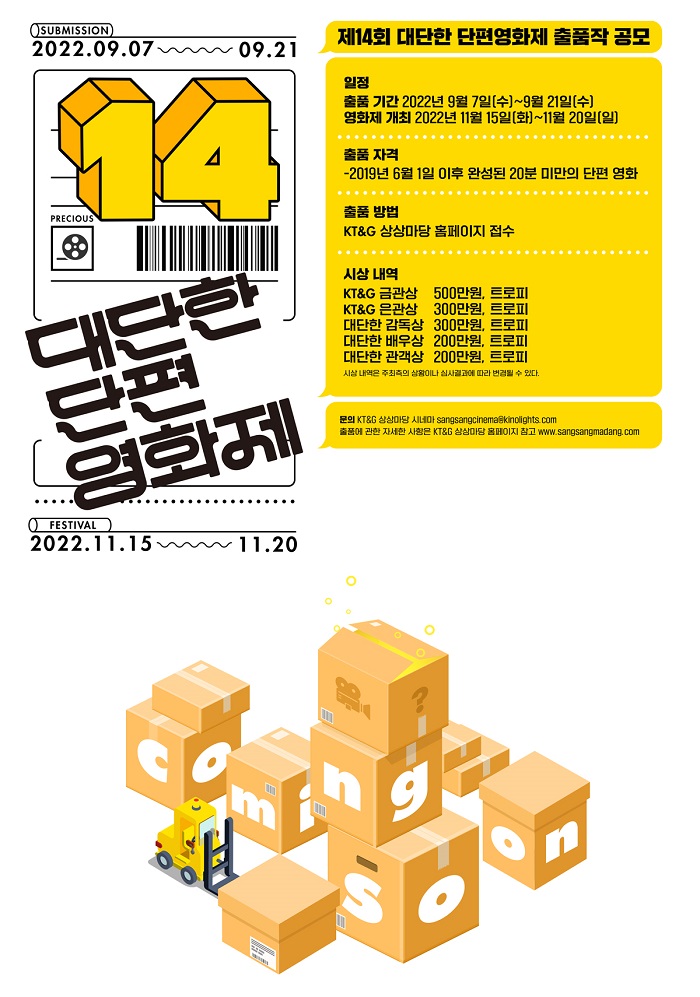 (Photo description) A poster advertising for the 14th Amazing Short Film Festival