494
KT&G, volunteering to help a leaf tobacco farm harvest leaf tobaccco
2022.08.05
On August 5, employees of KT&G (CEO Baek Bok-in) volunteered to assist farmers with the leaf tobacco harvest, who had difficulties finding farm workers.
Employees at the raw materials department and Gimcheon plant, who participated in the volunteer activity, visited a leaf tobacco farm in Gaeun-eup, Mun'gyeong, Gyeongbuk, and helped harvest leaf tobacco on the farm of approximately 15,000 square meters (4,500 pyeong).
Leaf tobacco is harvested primarily in the midsummer (July to August). Since it is difficult to mechanize the harvesting activity, leaf tobacco is mostly harvested manually, and the labor intensity is high. In particular, domestic farms are experiencing difficulties in securing the workforce as the COVID-19 breaks out again, and the rural population continuously declines.
KT&G has been volunteering for 16 years since 2007 to alleviate the difficulties of the farmers. In addition to the leaf tobacco harvest, the company helps farmers with transplanting in the spring and participates in other activities for mutual growth with the farming community.
KT&G has engaged in economic support projects to promote the welfare of leaf tobacco farmers in South Korea. In July, it delivered subsidy of about 480 million won to support leaf tobacco growers' medical check-up, children's scholarships, and fuel-saving equipment of exhaust gas -heat. The total amount of subsidy since 2013 amounts to 3.336 billion won.
Kim Jeong-ho, the head of KT&G's raw materials division, said, "Hopefully, our volunteer work will be of some help to leaf tobacco farmers, who have difficulties with the shortage of workers and COVID-19. We will make continuous efforts to grow together with farmers."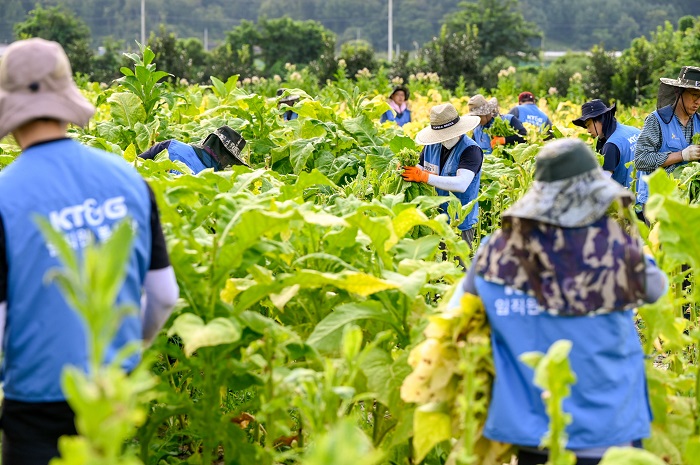 (Photo description) KT&G employees visited a leaf tobacco farm in Gaeun-eup, Mun'gyeong, Gyeongbuk on August 5 and helped farmers harvest leaf tobacco. The photo shows the volunteer work at the harvest field.