482
KT&G seeks applicants for 'Sangsang University Marketing School 2022.'
2022.05.31
From June 9 to July 10, KT&G (President Baek Bok-in) is recruiting for the 'Sangsang Univ. Marketing School,' where university students from across the nation can gain practical marketing experience.
The 'Sangsang Univ. Marketing School' is the first marketing education and practical experience program for college students in Korea, which began in 2010 and is operated in a variety of creative ways with new themes each year. More than 15,000 college students from thirteen regions across the nation have graduated from the Marketing School to date.
This course is open to any university student (including those on leave of absence) who is interested in marketing. Applications can be made through the Sangsang Univ. website (
www.sangsanguniv.com
). Participants chosen through application screening will participate in the program from 19 July to 19 August.
The 'Sangsang Univ. Marketing School 2022' curriculum consists of lectures from actual marketing professionals and the production of promotional videos for startups. According to the results of the project evaluation, the top fifty teams will present their own videos at the "Marketing Fair."
The winning team at the 'Marketing Fair' will receive a total of 30 million won in prize money. In line with recent gradual recovery to normal life, the previously online-only 'Marketing Fair' will now be conducted offline beginning this year.
Lee Si-hyeong, head of KT&G's Univ. Operation Division, stated, "This year at the Sangsang Univ. Marketing School, we plan to share real-world experiences that cannot be learned from books through lectures centered on real-world cases and delivered by industry experts." He continued, "I anticipate that through practical marketing experiences, the vivid imaginations of college students will be recreated as social values."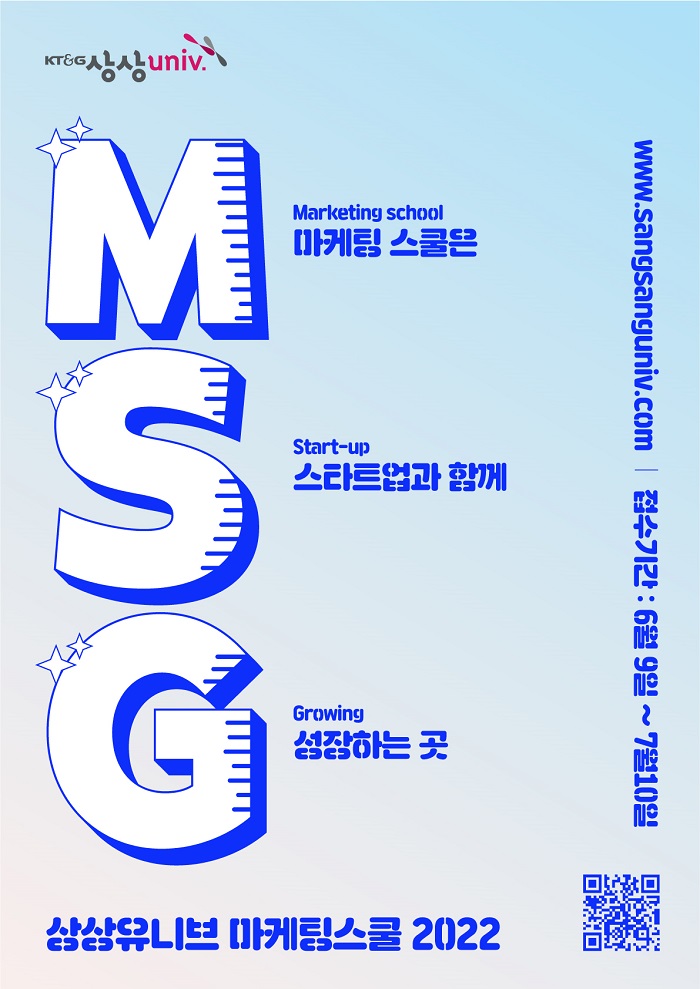 (Picture) By the 10th of July, KT&G will have recruited university students from across the nation for the 'Sangsang Univ. Marketing School 2022', where they will gain practical marketing experience. The image is a recruitment poster for the "Sangsang Univ. Marketing School 2022."