443
KT&G, Sangsang Univ. Student Management Team '13th Sangsang Friends' Team Recruitment
2021.06.28
KT&G (President Baek Bok-in) is recruiting for the '13th Sangsang Friends' team, an executive team that plans and launches various programs and SNS contents of Sangsang Univ. for university students across the country.
Students selected for the '13th Sangsang Friends' team will serve as the active management team of Sangsang Univ. at 13 regional headquarters nationwide. The team plans and operates various cultural, art, and volunteer programs in each region, and also produces social media content and promotional videos necessary to promote the program.
Any university student (including students on leave of absence) can apply, and applications can be made through the Sangsang Univ. website (
www.sangsanguniv.com)
until August 8. The 208 finalists selected after document screening and interview will serve as the '13th Sangsang Friends' team for four months from September to December. Students are provided with and expenses for activities of 200,000 won per month and content production expenses, and they are also provided with the online education necessary for program planning and implementation.
KT&G Sangsang Univ. is a university student community that has been operated by KT&G since 2010 to provide young people with diverse experiences in culture, art, service, and career exploration. It has been operating field-oriented programs such as classes, festivals, and volunteer activities, and since last year, it has been strengthening non-contact programs such as the online 'Home Class', the online contest 'Jiphyeonjeon', and online mentoring program 'Career Dining' in line with the social changes caused by COVID-19.
An official at KT&G said, "Sangsang Univ. is KT&G's unique social contribution platform that creates social value based on the imagination of university students, and has been communicating with more than 900,000 university students for the past 11 years." He also said, "We plan to develop and operate new and colorful programs that reflect the needs and trends of the Millennials and Generation Z in the future."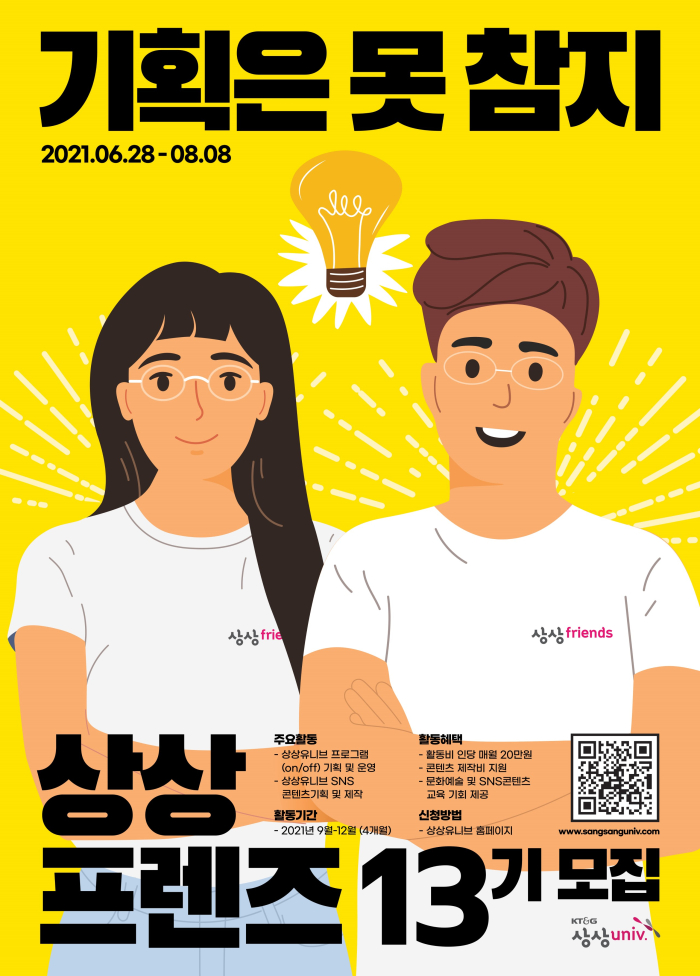 (Photo Description) KT&G is recruiting participants for the '13th Sangsang Friends' management team of Sangsang Univ. for university students across the country until August 8. The photo a recruitment poster for the '13th Sangsang Friends' team