442
KT&G Welfare Foundation Operates 'Stay with Stay', Support Program for Single-Parent
2021.02.02
The KT&G Welfare Foundation will be operating the 'Stay with Stay' support program until the end of December to improve the cultural welfare of low-income single-parent families living in Busan.
The 'Stay with Stay' program was newly introduced this year by the KT&G Welfare Foundation, and is available completely free of charge at 'KT&G Sangsang Madang Busan', which was created to provide culture and arts entrepreneurial opportunities for youth. A room for 4 and breakfast and dinner are provided to enable a comfortable stay for families, and beverage purchase vouchers from the coffee shop 'Sapoon Sapoon' operated by KGC Ginseng Corporation are also provided for free.
It is a detailed program including a MBTI/DISC personality type test to help families think about their career paths, and there is also an opportunity to enjoy a special art experience in which participants can create their own shoes in collaboration with local artists. All exhibitions and performances held at KT&G Sangsang Madang Busan are also available for free.
All events are conducted in strict compliance with the government's social distancing guidelines to prevent the spread of Covid-19, and personality type tests are also scheduled to be conducted in non-face-to-face ways such as online.
The KT&G Welfare Foundation plans to sign an agreement with the Busan City Health and Family Support Center and the Busan Jin-gu Office to select single-parent families to participate in this program, and will recommend 500 households to provide support to.
An official at the KT&G Welfare Foundation said, "As the Covid-19 pandemic makes it difficult for children to attend school, single-parent families raising children alone are facing even more challenges. Through this program, we hope to be able to provide single-parent families with a moment of healing."
The KT&G Welfare Foundation is a public interest corporation established by KT&G in 2003 to communicate with local communities and actively fulfill corporate social responsibilities, and provides community-based welfare services through eight welfare centers nationwide. Recently, the Foundation has provided food materials worth KRW 1 billion to 20,000 vulnerable households nationwide, and has been continuing to conduct social contribution activities, such as 'Sharing Kimchi of Love' for 17 years.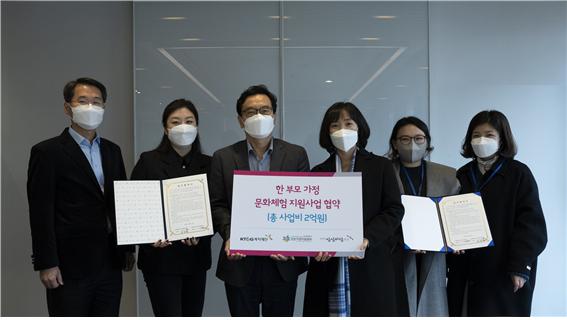 (Photo Description) KT&G Welfare Foundation Secretariat Ji-hyeong Kang and Busan City Health and Family Support Center Director Guk-hee Ju take a commemorative photo after completing the agreement ceremony for the operation of the "Stay with Stay" program for single-parent families in Busan on the 1st.