379
KT&G Welfare Foundation provides heating costs for low-income families
2020.11.26
KT&G Welfare Foundation is providing heating costs worth KRW 680 million to over 3400 low-income families in Seoul and the Metropolitan area.
Since 2005, KT&G Welfare Foundation has been providing heating fuel such as kerosene and coal briquettes and city gas fees annually to low-income households with difficulties paying for winter heating costs due to economic difficulties. The support funds have totaled up to KRW 10 billion this year.
KT&G has been prepaying the heating costs to a heating fuel distributor and a city gas distributor that have signed contract with KT&G, allowing beneficiaries to use the supported funds within limits when needed up until March of the following year.
A Welfare Foundation representative stated "we hope that neighbors living under the harsh circumstances of COVID-19 can pass a warmer winter through this year's heating cost support," and "we will continue to be supportive and strive to help the underprivileged in tough situations such as financial hardship through various activities."
KG&G Welfare Foundation is a foundation established in 2003 by KT&G to actively carry out Corporate Social Responsibility by communicating with the local community. It is currently providing local contact welfare services through 8 welfare centers nationwide. Additionally, it actively participates in solving social issues by sharing with neighbors in difficult situations and local communities, including low-income underprivileged and social welfare organizations.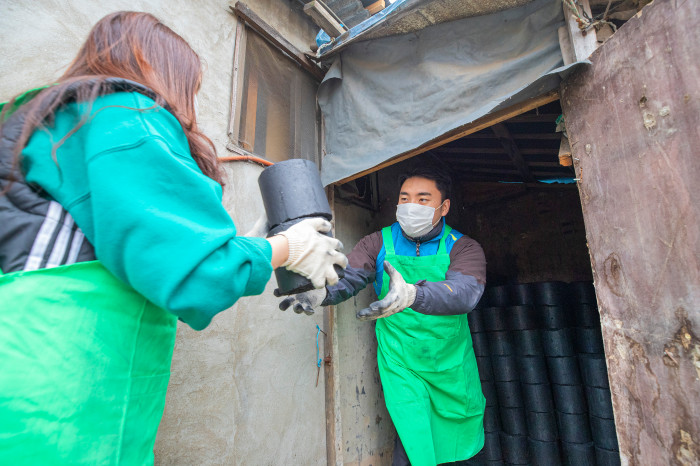 (Photo Description) KT&G Welfare Foundation is providing low-income families in Seoul and the Metropolitan area KRW 680 million worth of heating costs. This is a photo of a KT&G Welfare Foundation representative delivering coal briquettes to one of the low-income families in Pocheon, Gyeonggi Province.