369
KT&G Releases "KT&G Report" with ESG Achievements
2020.08.21
KT&G (CEO Bok-in Baek) published its 2019 KT&G Report, which includes the company's achievements in sustainable business management, such as ESG. KT&G has been releasing the report since 2007 to deliver transparent and accurate information on ESG to domestic and international stakeholders, as well as to inform of its various CSR activities.
The 2019 KT&G Report includes not only the major achievements but also the company's activities in three areas of ESG in order to facilitate readers' understanding: implementing environmental responsibility for the future, building a better society with inclusion, and building an advanced governing structure with global standards. Additionally, a new section on creating new markets through innovation was added to address Next Generation Products (NGP) and major achievements in R&D, with the view of emphasizing future potential.
In particular, as the recent spread of COVID-19 has highlighted more than ever the responsibility and role of the private sector, the report includes a page on responding to COVID-19 in a way that introduces various activities. To act on its mission, "a company by your side," KT&G is actively contributing to efforts made in overcoming the challenges that resulted from the continued spread of COVID-19, including the economic downturn and public health crises.
For better communication with a wide range of stakeholders, KT&G has closely examined the recommendations of the international standards on ESG, including the Global Reporting Initiative (GRI). The results have been reflected in the report.
A representative of KT&G stated, "KT&G has been working hard to go beyond its identity as a global private firm, and to work for the environment, for society, and for the maximization of the non-financial values of the governance structure. We will continue to create added value for society based on Korea's best governance structure, and publish the results in transparency."
KT&G has been recognized for its excellent sustainable governance and has obtained the A+ rank in the ESG assessments, conducted by the Korea Corporate Governance Service, for two years in a row. It was also awarded the Grand Prize in an assessment of its governance structure.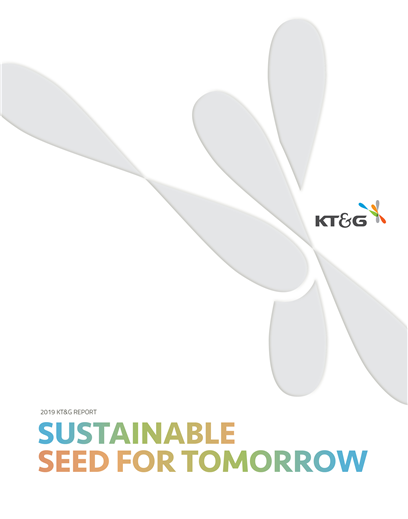 KT&G (CEO Bok-in Baek) has released its 2019 KT&G Report, showcasing its achievements in sustainable business management in areas like the environment, society, and ESG. The photo shows the cover image of the report.