14 Years of Volunteering... Consistent Win-Win With Tobacco Leaf Farmers
2020.07.27
On July 24, KT&G (CEO Bokin Baek) engaged in volunteer work in Mungyeong, North Gyeongsang Province, to help leaf tobacco farmers who are struggling with a lack of workers.
Leaf tobacco farming is concentrated in the middle of summer, from July to August. It is difficult to mechanize, so it is highly labor-intensive, with most tasks performed manually by hand. Farmers in Korea have been struggling to secure a sufficient workforce since the outbreak of the COVID-19 pandemic and the continuing decline of rural populations.
KT&G has been engaged in volunteering every year since 2007 in order to alleviate the hardship faced by these farmers, and has continued to maintain win-win relationships with farmers. This year, around 30 employees visited leaf tobacco farms in Gaeun-eup, Mungyeong-si, and volunteered to harvest about 4,000 kilograms of leaf tobacco across 3000 square meters of farmland.
KT&G not only helps with the harvesting of leaf tobacco, but also provides helping hands during spring-time planting, thereby maintaining win-win relationships with farmers throughout the year.
In addition, we have consistently conducted economic support projects to promote the welfare of leaf tobacco farmers in Korea. In May, the company provided health checkups for 1,000 tobacco leaf growers and scholarships for the children of farming households totaling KRW 400 million. From 2013 to the present, we have provided a total of KRW 2.45 billion in scholarships for the children of over 6,900 farmers. In addition, KT&G is the only tobacco company in Korea that purchases domestically produced leaf tobacco.
Head of the Raw Materials Division at KT&G, Songho Shin, said, "I hope KT&G's leaf tobacco harvesting service will be of help to farmers struggling to due to workforce shortages and the COVID-19 pandemic." He went on to say, "We will continue to strive to maintain win-win partnerships with farmers."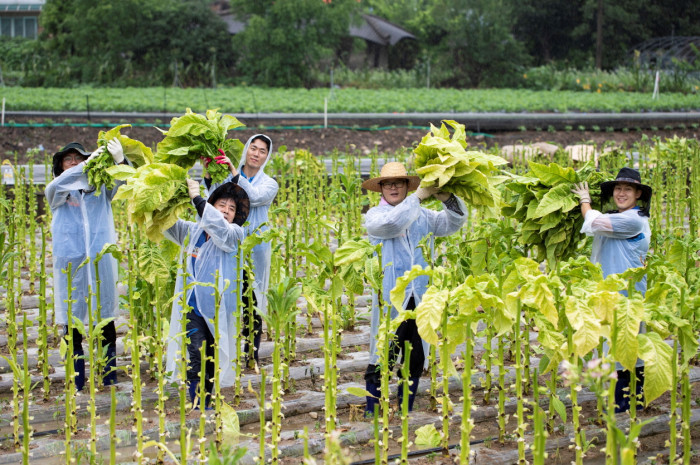 KT&G's Raw Materials Division and its employees at the Gimcheon Plant visited the leaf tobacco farm in Gaeun-eup, Mungyeong-si, on July 24 to help with harvesting activities. Image of leaf tobacco harvesting volunteer work site
KT&G's Raw Materials Division and its employees at the Gimcheon Plant visited the leaf tobacco farm in Gaeun-eup, Mungyeong-si, on July 24 to help with harvesting activities. Image of leaf tobacco harvesting volunteer work site