453
KT&G Supports Covid-19 Diagnosis Kits to Russia and Turkey
2020.06.10
KT&G (CEO Baek Bok-in) has provided Russia and Turkey with COVID-19 diagnostic kits worth KRW 100 million ($82,000) due to the rapid spread of COVID-19. This is an additional provision of diagnostic kits from the 6,300 kits that were given as support to the Indonesian government last May.
According to Worldometer, which tracks COVID-19 cases in real-time, Russia has recorded 476,000 COVID-19 cases and is the third-worst hit country in its total number of corona cases. Russia has reached the most severe stage for COVID-19 in Europe as daily new cases hover at 8,000.
Turkey recorded 171,000 positive cases of the coronavirus and has been testing more than 30,000 each day as of the third of the previous month. The total number of testing surpasses 2.1 million cases. Russia and Turkey are at present highly in need of medical equipment, testing kits, and medical protective gear to slow down the pandemic.
KT&G has decided to offer support to fulfill its global social responsibility and help Russia and Turkey overcome the crisis as a global corporation with overseas branches in each of the countries. KT&G has distributed 7,600 diagnostic kits consecutively to the Kaluga region government in Russia and the Ministry of Health in Turkey since the end of May. The supplies are to be used in COVID-19 specialty hospitals and other medical facilities to prevent its spread.
"We have decided to provide additional support to Russia and Turkey to combat the global pandemic, as we have provided COVID-19 diagnostic kits in Indonesia last May," said Kim Kyung-dong, head of the KT&G's social contribution office. "We will continue to fulfill our social responsibility as a global corporation to overcome the coronavirus crisis."


Meanwhile, KT&G has continued its support for those in need in Korea. The company has donated KRW 500 million to the Korea Disaster Relief Association, and with its subsidiary, the Korean Ginseng Corporation (KGC), the company has also provided KRW 1.06 billion worth of Jeonggwanjang ginseng products to hospitals and clinics. Moreover, the company has participated in the "Helping Farmers Relay Campaign" and "Good Landlord Movement" and has provided a total of KRW 300 million worth of lunches to national welfare institutions through the "Imagination Sharing" program, to help small businesses and vulnerable groups.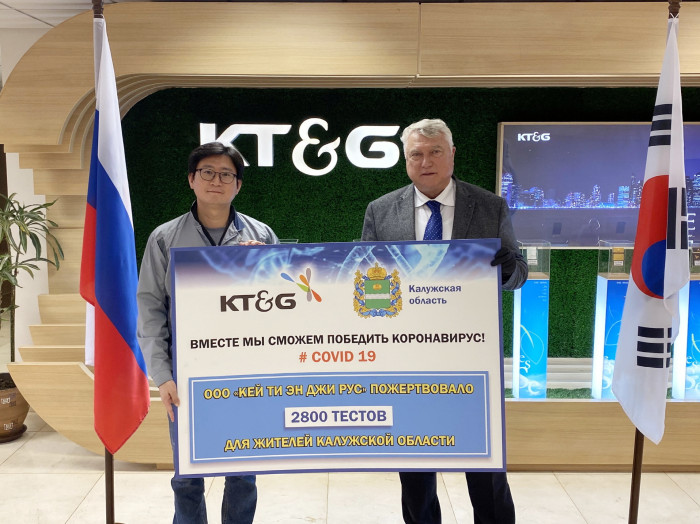 KT&G donated a total of KRW 100 million worth of COVID-19 diagnostic kits to the Kaluga region government in Russia and the Ministry of Health in Turkey. The photo shows the Deputy Governor of the Kaluga region Potemkin (right) and the President of the Russia Regional KT&G Office Kim Young-hoon (left) at the donation ceremony.