467
KT&G's BOHEM CIGAR MINI Gaining in Popularity
2013.02.06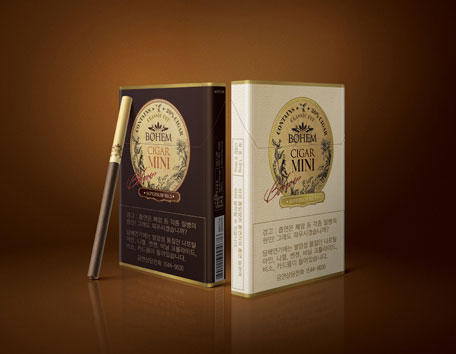 BOHEM CIGAR MINI, the world's super slim first cigarette to use cigarette paper containing cigar leaves, exceeded the sales mark of 44 million cigarettes in just three weeks after its launch.
BOHEM CIGAR MINI attracted attention before it was launched with its distinctive, gratifying cigar feeling and refined pack design, and with 2 million cigarettes sold on the first day, the sales volume has continued to rise. The sales figure of 44 million cigarettes in just three weeks after launch is the highest among the super slim products released lately.
A KT&G official said, "The market share in the area where the population of young people is concentrated, including university campuses, is high with 1.6% relative to other areas," adding that "it seems that BOHEM CIGAR MINI's compact design and distinctive flavor is winning favor from young consumers with strong personalities."
BOHEM CIGAR MINI contains cigar leaf of South American origin, including Cuba, for 20% of its raw material leaf tobacco, for which a "cigar wrapping" method that involves rolling up super slim cigarettes in cigarette papers containing cigar leaf has been used. In addition, its convenience of portability has been improved by adopting a length of 84mm to this super slim cigarette.