490
Korean tobacco brand 'Esse' surpasses 100 billion cigarettes sold overseas
2012.04.09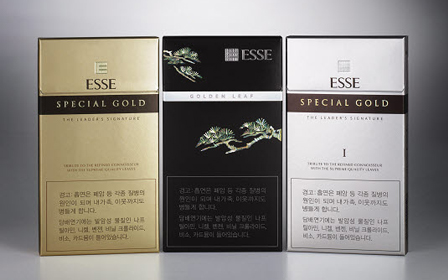 The Korean brand 'Esse' recently passed the 100 billion cigarette mark in overseas sales.
KT&G (CEO Min, Young-Jin) reported that international sales of its 'Esse' brand totaled 100.6 billion cigarettes as of the end of last March. Stacked end to end, this number of cigarettes would stretch 250 times around the Earth or reach to the Moon and back 13 times.
The world's bestselling super-slim cigarette, exports of 'Esse' have continued to skyrocket every year since its first export of six million cigarettes in 2001. In 2006, five years after its international launch, Esse marked the 10 billion cigarette annual export level. Last year, Esse marked more than 21 billion cigarettes, which opened of the era of 20 billion in annual exports within ten years of its launch.
Esse is now sold in more than 40 nations around the world, including in Russia, the Middle East and Central Asia, where Esse is ranked one or two among super-slim cigarette products. It entered the Italian and Spanish markets last January with plans to expand across all of Western Europe, including France, Portugal and Austria.
KT&G, which began its initial run of Esse with only a single set of machines in 1996, has grown to become the world's largest super-slim cigarette production and sales firm. Around 40 billion Esse cigarettes are manufactured per year in its Korean Shintanjin plant and three overseas facilities, including one in Russia. This is estimated as approximately 35% of the entire world's super-slim cigarette production. KT&G, which is now the owner of 30 production lines for super-slim cigarettes, about 25% of the global total of such equipment, is poised to introduce additional Esse production facilities in preparation for a continuous increase in future demand.
Esse has kept a firm hold on its position as the best-selling cigarette in Korea since 2003. It also took first place in the Korean brand power index (K-BPI) presented by Korea Management Association Consulting for five consecutive years, as well as the first rank of the National Brand Competitiveness Index (NBCI) by Korean Productivity Center for three years in a row.
An official from KT&G stated, "Regardless of the political instability taking place in the Middle East and Central Asia when we were starting out, the company expressed its determination to enter these markets and Esse is now positioned as the top super-slim cigarette product due to thorough localization and luxury-only strategies." He concluded, "KT&G will further strengthen Esse's reputation as the world's best super-slim cigarettes."