516
KT&G Takes over Somang Cosmetics
2011.07.19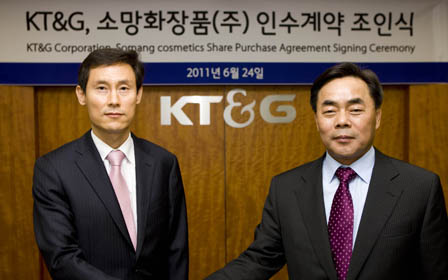 KT&G (CEO Young-jin Min) is entering into the cosmetics market by signing the contract to acquire a 60% stake in Somang Cosmetics on the 24th of June, 2011.
Founded in 1992, Somang Cosmetics has brand names such as "Man with Flower" and "Danahan (oriental hub cosmetics)" and is a mid-sized cosmetics company having recorded 122 billion won in revenue and 11.1 billion won in operating profit last year.
KT&G is planning to expand its lines of business not only into the existing cosmetics market, but also into the new, high-end red ginseng cosmetics market. This will be done by combining its core capabilities surrounding R&D in red ginseng, health supplementary food, pharmaceutical sectors, and raw materials procurement with the strengths of Somang Cosmetics, including consumer confidence in R&D, production know-how and distribution channels to produce synergy effects.
To achieve this goal, the company plans to increase the overall market coverage by clearly dividing the business operations into KGC Lifengin, a subsidiary founded last year and Somang Cosmetics; KGC Lifengin will be oriented to premium oriental hub cosmetics while Somang Cosmetics will be focusing on the masstige market.
In addition, KT&G will continue its reputation as one of the best Korean companies in terms of social responsibilities by further expanding the existing initiatives of Somang Cosmetics in making social contributions and donations.
An official from KT&G says, "KT&G will take advantage of this opportunity to take over Somang Cosmetics to build a more balanced business portfolio incorporating tobacco business both at home and abroad, health supplementary food and cosmetics areas to become a global company having both growth potential and profitability."