443
KT&G's China Strategy Under Way
2011.04.15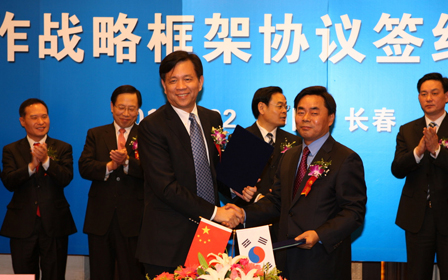 KT&G has set its eyes on China, the world's largest market for ginseng and ginseng products. The former monopoly producer of ginseng and tobacco of Korea will take on this challenge by establishing a manufacturing plant there and developing ginseng products custom-tailored to local taste. In addition, it plans to grow ginseng locally while creating a new brand exclusively for Chinese customers.
Already the world's biggest ginseng-producing country, China has made aggressive investments, with ample government support for farmers, in improving the quality of its ginseng products to compete against the ginseng produced in Korea. As the Chinese increase their disposable income, the market for healthy foods including ginseng is forecast to reach up to US$16.5 billion in 2010, a 13% increase over the previous year.
On March 22, KT&G's President Young-jin Min visited China's Jilin Province and signed agreements with the provincial government and the government of the Yanbian Korean Autonomous Prefecture for establishment of a local corporation and manufacturing plant.
According to the terms of the agreements, KT&G will receive a range of support from the governments including subsidies from the ginseng industry development fund, guarantees for farmland for ginseng cultivation, and an exemption or reduction in corporate taxes. In addition, the company was promised to be treated equally with other local competitors even in case laws are revised.
As the first step toward the localization effort, KT&G will build a manufacturing plant in the City of Yanji located in the Yanbian Prefecture. Ground breaking for the 107,000m2 plant will start in September 2011. Initially, the company will invest $16.5 million to build a plant with an annual capacity of 200 tons, and production will be expanded in stages up to 2,000 tons.
A KT&G official said, "Our effort to enter the Chinese market by establishing a local operation is meaningful in that the world's premier ginseng producer is finally moving into the world's biggest ginseng market." "Given our red ginseng production technology is the best in the world, we are confident of reaching $275 million in revenue by 2016 in China alone," he added.
KT&G considers the Chinese investment as part of its effort to create new growth engines and become the world's leading healthy food purveyor.
Previous
No previous text.