KT&G Sangsang Madang Busan holds an art and cultural festival called 'Festival Siot'
2022.10.20
From tomorrow to 23rd in Busan, KT&G (President Baek Bok-in) will hold a "Festival Siot" in which people will be able to enjoy performances, exhibitions, and interactive zones.
This year's Festival Siot (Sound Wave) will represent the spread of culture and art delivered by Sangsang Madang Busan. This event will enhance Sangsang Madang Busan's reputation as a complex cultural and arts environment in Busan.
Festival activities will take place in all areas of Sangsang Madang Busan and on a special outdoor stage nearby created as a "car-free street." The outdoor stage will host performances by Jaurim and Dickpunks, as well as performances by indie bands in the live hall and rooftop. There will be a flea market booth located near Sangsang Madang that will collaborate with small business owners. The gallery will display excellent "Art Wall Painting" works produced by citizen participants.
Additionally, Sangsang Madang Busan will be offering music support seminars and mobile game experience zones in collaboration with its partners to provide visitors with a variety of attractions. Further, the entire profit generated by the festival will be returned to the local community.
A representative from KT&G Sangsang Madang Busan explained, "In order to enhance the enjoyment of the culture associated with Sangsang Madang Busan as well as revitalize the complex arts and cultural environment, this festival is being organized." He also noted, "Our commitment to supporting the cultural and artistic ecosystem will continue to grow and we will continue to make contributions to the local community."
KT&G has established the fifth complex arts and cultural space in the country, Sangsang Madang Busan after Hongdae, Nonsan, Chuncheon, and Daechi; this is the largest space among Sangsang Madang, and it comprises a collection of design, performance, and exhibition spaces, as well as a center for the creation and support of young entrepreneurs. Additionally, it operates accommodations that offer a combination of relaxation and cultural experiences.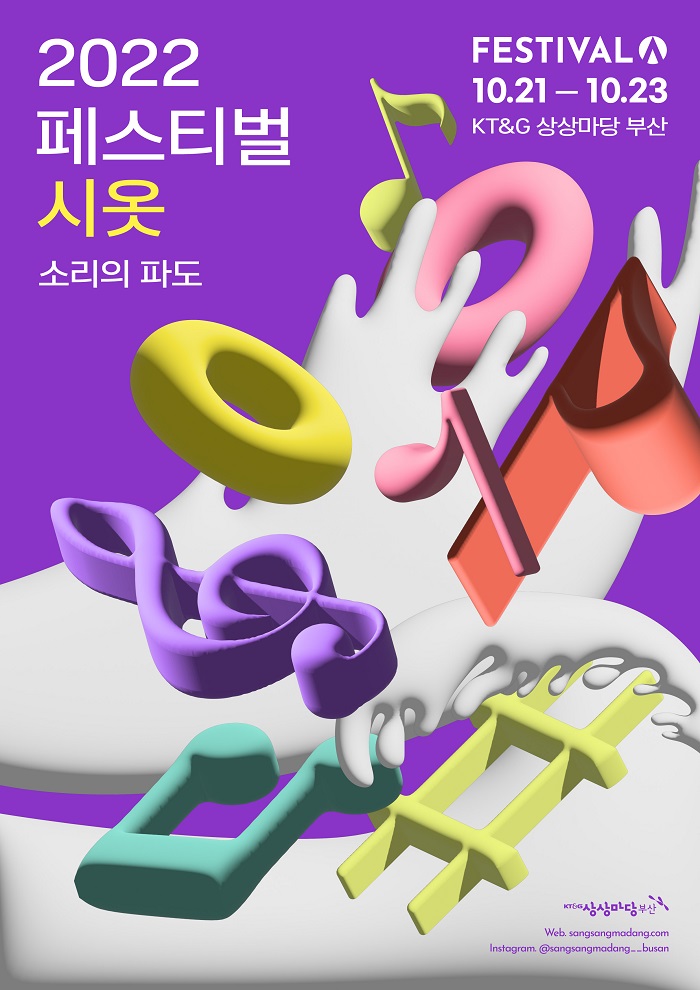 (Photo description) Event poster for KT&G Sangsang Madang Busan "2022 Festival Siot"