443
KT&G, recruiting participants for the music festival 'Sangsang univ Jiphyeonjeon 2021
2021.08.06
KT&G (CEO Baek Bok In) is hosting the music festival 'Sangsang univ Jiphyeonjeon 2021' for all university students around the country that dream of being next-generation musicians, and are recruiting participants until September 28th.
'Sangsang univ Jiphyeonjeon' is KT&G's cultural art program that supports the growth of university students with passion and talent for music to grow into musicians. In the first program that took place last year, a total of 310 teams and 1,087 university students underwent a fierce competition, with the performance videos of the final participants recording around 113,000 all-time views.
This recruitment includes three areas, which are vocal/band/rap, and all university students (including students on leave) can submit their applications and videos on the Sangsang univ website (
www.sangsanguniv.com
.) Through a fair evaluation by experts currently working in the field such as music directors, performance directors, etc., a total of 48 teams are selected in the first round, with the 6 mentors formed by famous musicians selecting the 12 teams to take part in the final performance. The list of musicians participating as mentors is revealed in August, with singers such as Tei, Lim Jeong Hee, Minzy, etc. having participated last year.
The 12 teams in the final selection receive benefits such as 1:1 mentoring with a famous musician, having a piece of registered music, performance opportunities, etc., with a total of 30 million KRW available as prize money. The entire process from the evaluation to the performance of 'Sangsang univ Jiphyeonjeon 2021' will be revealed as a series starting December through the 'KT&G Sangsang univ' YouTube channel.
Meanwhile, this festival also conducts a 'New Sound Challenge' which is a viewer-participating event. Participants that leave creative and novel comments on the event video posted on the Sangsang univ YouTube channel are given the 'Jiphyeonjeon Finale Concert' ticket and can watch the performances of the final participants and the mentors.
A KT&G official stated that "I hope the university students around the world that are aspiring to become the next-generation musicians can display their passion and talent in music through 'Sangsang univ Jiphyeonjeon 2021'", and that "we will continue to present various cultural art programs to support young adults that are tired of COVID-19."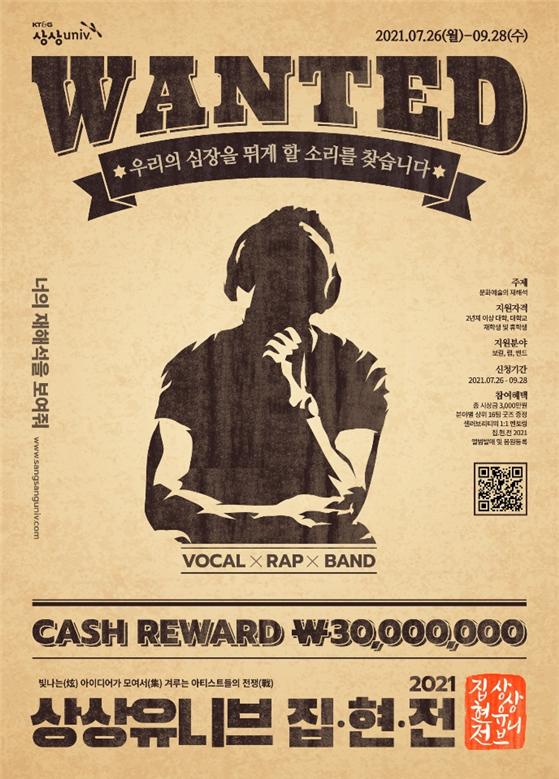 (Image explanation) KT&G hosts the music festival for university students around the country with dreams to become next-generation musicians 'Sangsang univ Jiphyeonjeon 2021' and is recruiting participants until September 28th. The image is the 'Sangsang univ Jiphyeonjeon 2021' recruitment poster.