441
KT&G Holds '2021 Sangsangmadang Coco Challenge' Awards Ceremony
2021.07.29
KT&G (CEO Baek Bok-in) held the award ceremony for the 2021 Coco Challenge (Korea Cosmetics Challenge), which supports youth start-ups in the cosmetics and beauty industry on the 28th.
The event was held at the KT&G Seoul headquarters in strict compliance with the Covid-19 quarantine guidelines. The ceremony was attended by the members of the 2 teams, "The Scent Green" and "Sino Park", Lee Sang-hak, head of KT&G's sustainable management division and Ahn bin, the CEO of COSMOCOS.
The "Coco Challenge" contest is designed to strengthen KT&G's support for youth start-ups and expand the culture and arts support area of Sangsangmadang. KT&G is to support the entire business operations of the 2 winning teams in cooperation with COSMOCOS.
The judging process was conducted three times through procedures such as document review, presentation workshop, and mentoring camp etc. to strictly maintain fairness. The '1page' PT presentation after the mentoring camp at the KT&G's Sangsangmadang Busan, and the review by 'Beauty YouTubers' accounted for 40% of the result, respectively. The remaining 20% was decided by an online survey in which about 4,300 people participated, showing high interest in the contest.
In this contest, which showed a high competition ratio of 42 to 1, the "Scent Green" team, which introduced acne and pore care beauty pads, and the "Sino Park" team, which showcased solid perfume made of Schisandra seeds, were selected as the final winners. They will be awarded 50 million won for product development as well as benefits such as mentoring support. They will be aided in PR, marketing, and sales platform by influencers in promoting their brands.
Shim Young-ah, head of KT&G's social contribution office, said, "Although it was a competition limited to the cosmetics and beauty sector, we were able to witness young people's enthusiasm for starting and running their own business." She continued "We will actively support the 2 teams so that they can grow up to be solid and competitive companies. We will continue to provide as much opportunity as we can to youths."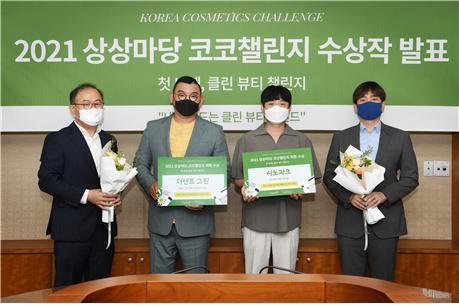 (Photo description) KT&G held the awards ceremony for the 2021 Coco Challenge contest, which was organized to support youth start-ups in the cosmetics and beauty sector. The photo shows Lee Sang-hak, head of KT&G's sustainable management division (first on the left), Ahn Bin, CEO of COSMOCOS (first on the right), Kim Hong-seok, CEO of The Scent Green (second on the left), and Park Shin-ho, CEO of Sino Park (third on the left) having a photo time at the awards ceremony held at KT&G's Seoul headquarters on the 28th.