448
KT&G Scholarship Foundation, Providing KRW 800 Million in Scholarships to 200 College
2020.04.27
The KT&G Scholarship Foundation is recruiting for the '2020 Imagination Scholarship' program to provide scholarships to college students from low-income families who are facing difficult economic conditions due to the COVID-19 crisis.
The 'Imagination Scholarship Program' is one of the scholarship projects that the KT&G Scholarship Foundation has conducted since 2011 to support the underprivileged and to foster future talent. It is an educational support program that facilitates the learning activities of middle and high school students and college students.
The scholarship is provided to students whose families are in receipt of basic living support as well as students from low-income families among Korean university (four-year and junior college) students. A total of KRW 800 million in scholarships will be awarded to the selected 200 people, up to KRW 4 million per year. Recruitment will take place from April 29th to May 15th, and applications are available on the KT&G Scholarship Foundation website (https://scholarship.ktngtogether.com/). After receiving documents, the final beneficiaries will be selected through fair examination, and the results will be announced on May 22.
In particular, this year, the scholarships that were distributed to students according to their grades in each semester will be awarded to those students selected for the '2020 Imagination Scholarship' in the first half of the year taking into consideration financial difficulties being faced as a result of the spread of COVID-19. In addition, each selected student will be additionally provided with a tablet PC to facilitate the non-face-to-face educational environment of college students.
The KT&G Scholarship Foundation is a public interest corporation established in 2008 by KT&G in order to practice the corporate philosophy of "A Company that Walks Together with People". The Foundation has continued to provide scholarship programs to support outstanding students so that they don't give up on their studies for social and economic reasons. As of last year, over 4,600 students have benefited from the project, and the monetary support provided amounts to KRW 29.4 billion.
An official from the KT&G Scholarship Foundation said, "I hope that the program will help college students who are facing financial difficulties due to the recent spread of COVID-19 to continue their studies without losing hope. We will continue to expand various support activities to solve educational inequality and foster future generations."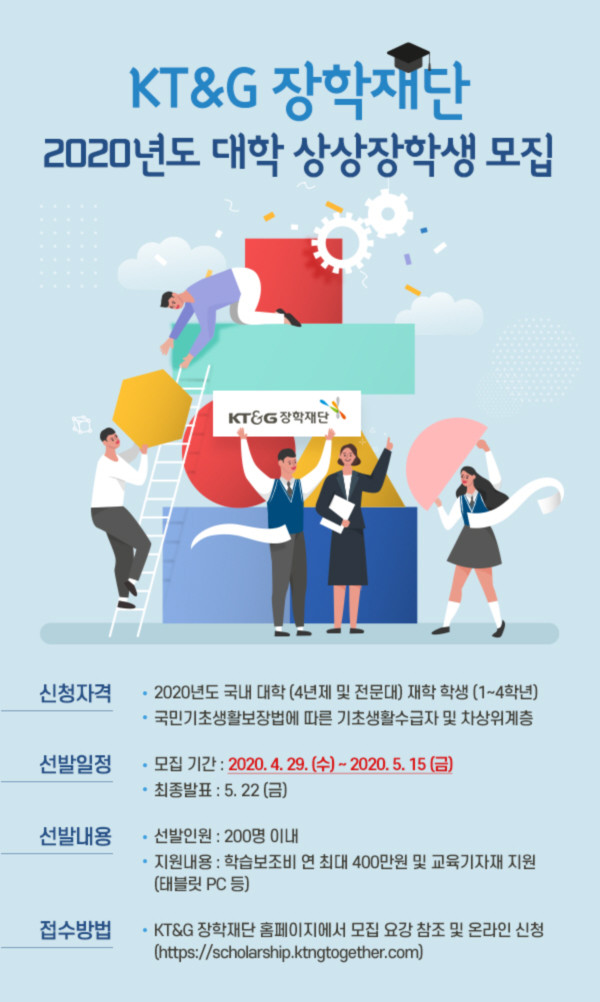 <'2020 College Imagination Scholarship' Recruitment Poster>