388
KT&G Holds '10th Imagination Realization Contest' Award Ceremony
2019.12.16
KT&G (CEO Baek Bok-in) held the final presentation and awards ceremony at the 10th Imagination Realization Contest at KT&G Tower in Gangnam-gu on December 13.
Unlike last year's `` real growth contest '', the Imagination Realization Contest this year was transformed into a `` national participatory UCC campaign '' to congratulate the history and significance of Korea's independence for the 100th anniversary of the 3.1 Movement and Provisional Government Establishment.
Participants, in particular, were not limited to the field of application, and they were able to submit their works in free format such as video, photography, music, illustration, webtoon, and calligraphy. The application method was to post content directly on social networking service (SNS) to reflect the competition trend, and a total of 338 entries were received.
In the final presentation on the 13th Dec., a total of 10 teams participated and presented their works, and the final winners were selected based on subject suitability, completeness and creativity. As a result of the final screening, the grand prize was Kim Ki-sul's student team who submitted the manuscript paper-connect, which was highly appreciated for topic understanding and creativity. The total prize money was 12 million won, including the best two teams, the three excellent teams and the four incentives. Winners will be invited to the KT & G Tower first floor exhibition space next February.
Kim Ki-sul, who won the grand prize, said, "This competition was a meaningful experience to reconsider the history and lessons of independence." "This made me proud to be a citizen of the Republic of Korea."
An official from KT&G said, "The contest was held under the theme of" Korea, connects the Great Imagination "in the celebration of the 100th Anniversary of the March 1st Movement and the Provisional Government of the Republic of Korea and preparing for the new 100 years." "I hope this event will serve as an opportunity to contribute to the establishment of the history of Korea and a proper recognition of history."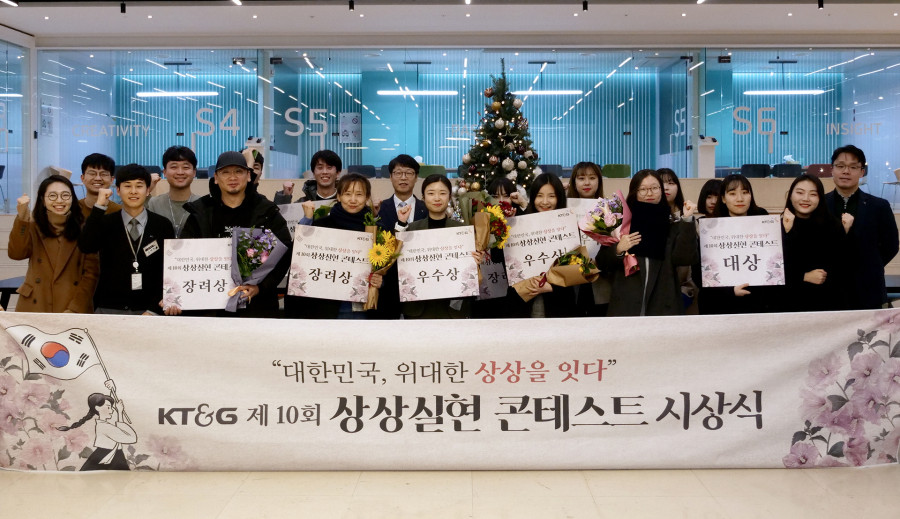 ▶ Winners are taking a commemorative photo after finishing presentation and award ceremony of the 10th Imagination Realization Contest held at KT&G Tower in Gangnam-gu on the 13th Dec.