471
KT&G Holds the '2013 Korea Design Challenge'
2013.02.19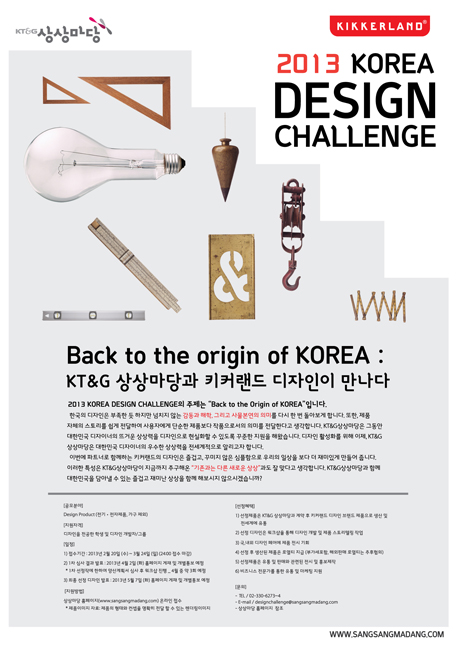 KT&G (CEO Min Young-jin) is holding the 2013 Korea Design Challenge, a public contest program that helps produce excellent designs in Korea and distribute them overseas.
The Korea Design Challenge is a design support program that KT&G has prepared for the first time this year through Sangsang Madang, and plans to jointly hold it with the U.S. design distribution company Kikkerland and collaborate with this company to commercialize products and distribute them overseas.
The slogan of this year's public contest is "Back to the origin of KOREA: KT&G Sangsang Madang and Kikkerland Design Meet," which shows our will to find out the true state of Korean design with participants. The criteria for evaluating ideas are creativity, commercialization potential, and marketability; however, electrical, electronic products, and furniture are excluded from this contest.
The finally selected design products, on a contract with KT&G Sangsang Madang and with an introduction by the designer who selected them, will be produced and distributed in 26 countries, including the USA and in Europe, and they will be provided with a variety of benefits such as presenting works at design fairs at home and abroad, being invited to attend the 2014 New York Design Week to be held in May next year, and being invited to Kikkeland's New York head office.
Entry is open to all students who majored in design, design developers and groups. Applications can be made on the KT&G Sangsang Madang homepage (www.sangsangmadang.com) from February 20 until March 24.
Meanwhile, KT&G has been supporting design products with a unique sense and the ideas of domestic designers by distributing them on a continuing basis since 2007 through KT&G Sangsang Madang. At the Design Square located in Seogyo-dong, Seoul, KT&G has provided a forum for exchange for designers through design exhibitions and sales, and opportunities for the general public to catch a glimpse of the trends in the design world, helping to increase opportunities for the Korean design products to get close to consumers through online and offline channels.