387
KT&G selected as Excellent Institution for sponsorship of Culture and Arts sponsored
2019.12.10
KT&G (CEO Baek Bok-in) was certified as an excellent organization for cultural and arts sponsorship by the Ministry of Culture, Sports and Tourism on 9th Dec. for the creation of a cultural ecosystem where artists and the public can freely interact and enjoy.
Celebrating the fourth time this year, the Certification of Outstanding Organizations for Culture and Arts Sponsorship is a system that examines and certifies companies and organizations that have excellent expertise in the field of sponsoring culture and arts and have produced sponsorship results. KT&G was selected as an excellent organization of cultural arts in 2016, the first year of the system, and was recertified this year when certification expires.
In this certification, KT&G was recognized for supporting artists' creative activities and expanding opportunities to enjoy arts and culture by establishing Sangsang Madang Hongdae in 2007, followed by Sangsang Madang Nonsan in 2011, Sangsang Madang Chuncheon in 2014, and Sangsang Madang Daechi in 2017. In the first half of next year, Sangsangmadang will be opened in Seomyeon, Busan to expand the base of local cultural arts.
'KT&G Sangsang Madang' currently has 1.8 million visitors annually, and it has become a representative complex arts and cultural space in Korea by operating 3,000 diverse cultural and art programs per year, including movies, performances, exhibitions, design, and educational projects.
KT & G, Head of Social Contribution, Kim Kyung-Dong said, "KT&G will continue to support non-mainstream cultural arts and expand cultural diversity to expand the public's opportunities to enjoy culture." "We will continue to fulfill our social responsibilities by leading creative and genuine cultural and arts support activities in the future."
In November, KT&G Sangsang Madang was ranked first in the multicultural space category in the Consumer Satisfaction Evaluation at the 24th Consumer Day Awards hosted by the Korea Consumer Council.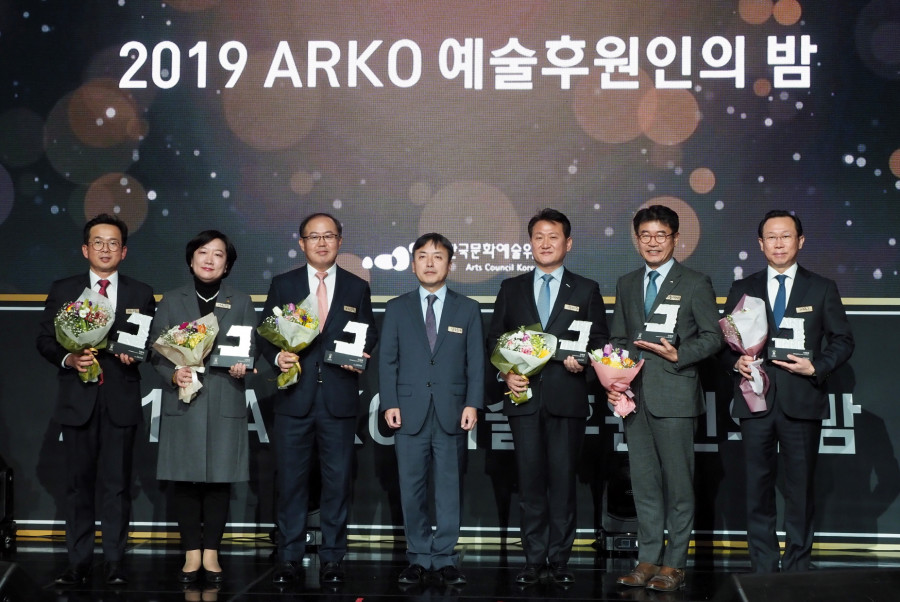 ▶ KT&G (CEO Baek Bok-in) received a certificate of excellent sponsorship for culture and arts at the `` 2019 ARKO Art Sponsor Night '' held at the Lotte SIGNIEL Hotel in Songpa-gu, Seoul on the 9th Dec. The photo shows Lee Sang-hak, head of KT&G's Sustainability Management (third from the left) and Kim Jeong-bae, director of the Ministry of Culture, Sports and Tourism (fourth from the left).