493
Tonino Lamborghini scents success in overseas markets
2012.11.19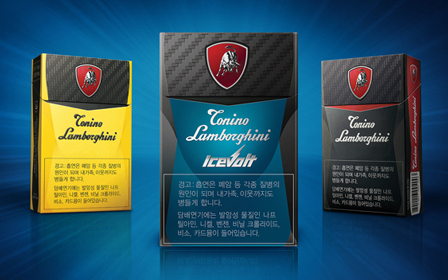 'Tonino Lamborghini,' first introduced in the Korean market, is now expanding into overseas markets beginning with Hong Kong and China.
KT&G agreed to a Tonino Lamborghini export contract for the Hong Kong market and took an initial order to distribute the product from the end of this month. Prior to this, KT&G exported 488,000 packs of duty-free product to China.
An official from KT&G reported, "Because China, which is the world's largest consumer market, is an arena of competition for global luxury brands along with Hong Kong, we are looking forward to the successful entry of the premium brand Tonino Lamborghini." He continued, "From early next year, the Russian and Taiwanese markets, together with Dubai, are targets for launch".
In the meantime, Tonino Lamborghini received a series of acclimations in reviews at Intertabac, the world's largest tobacco industry fair, held in Germany last September, as well as at last month's Tax Free World Association (TFWA) World Exhibition in France.
Administrator Carlos, the CEO of Tadiscan, a firm specializing in tobacco distribution and a participant in Inter-tabac, said, "Lamborghini cigarettes have not only a global reputation but also the world's best quality: all the ingredients to become a global luxury brand.
Tonino Lamborghini cigarettes are the fruit of a collaborative effort between KT&G and the Italian luxury brand Tonino Lamborghini and are designed to reach a global market within three years. KT&G has the exclusive worldwide sales rights for the product.