Footsteps of KT&G participating in the efforts to overcome the COVID-19 crisis

It has been several months since the implementation of the campaign to maintain social distancing to prevent proliferation of COVID-19.
Our daily life has suddenly stopped one day with the prolongation of working from home, postponement of the starting dates of school and cancelation of various meetings.
With the increment of exhaustion from the crisis, our longing for our previous daily life filled with trivial happiness in increasing continuously.

KT&G established and is operating 3-staged prompt support method to enhance the ability of the local community for recovery from the extensive difficulties experiences due to worldwide proliferation of COVID-19. It is composed as follows:

1. Physical support project for provision of donations and goods for prevention of spreading of COVID-19.
2. Customized support project for the social classes vulnerable to disasters with their livelihood directly hit by the COVID-19 pandemic.
3. Psychological support project for stabilization of emotions of the members of our society suffering from the pandemic.
Direction of the pursuits for social contribution by KT&G to overcome the COVID-19 crisis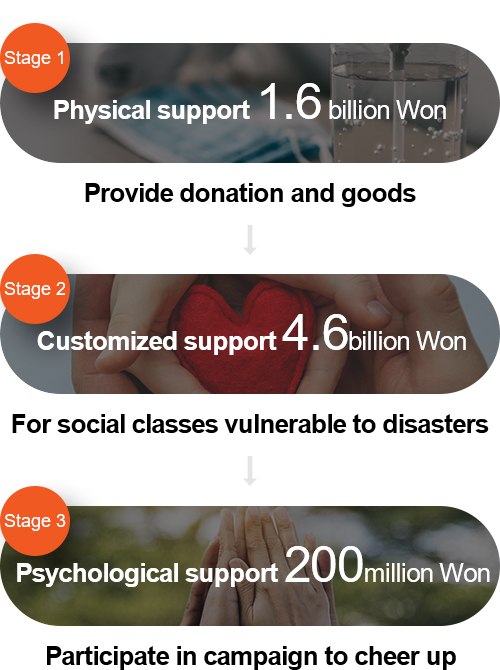 (As of the end of December 2020)
KT&G is continuously and sincerely pursuing social responsibility activities focused on the constituent members in and out of the company with the firm belief that policies for the people will impart affirmative effects on the constituent members of our society, which will in turn impart affirmative effects on the company. KT&G will take the lead to overcome the crisis by imagining the happiness of our daily lives that we will enjoy again together after the termination of COVID-19.
1 Physical Support
KT&G donated the emergency fund of 500 million KRW to the Hope Bridge Association of National Disaster Relief in the purpose of supplying the food items and quarantine items for the medical personnel and self-quarantined people back in February 2020 during the initial outbreak of Covid-19 in South Korea. Also, KT&G subsequently delivered 1.06 billion KRW worth of ginseng products to the medical personnel working at the quarantine sites with KGC (Korea Ginseng Corporation), a subsidiary company of KT&G.

In addition, we participated in the 'campaign for kind lessor' and provided support valued at about 430 million KRW through deduction in the fixed rental fees for the personal business operators and small corporations leasing the 12 rental buildings owned by our company.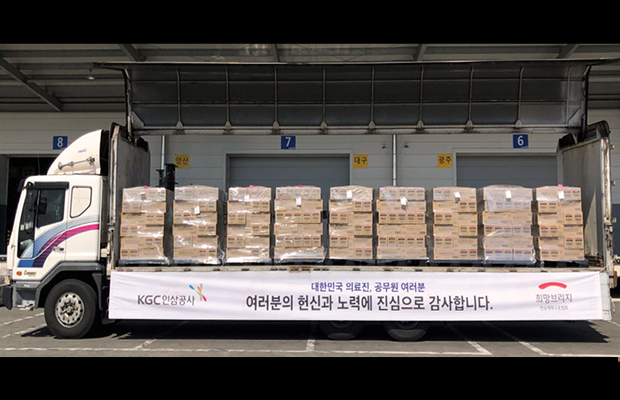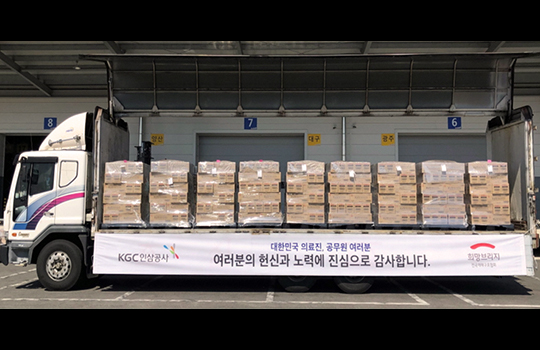 2 Customized Support
KT&G provided 300 million KRW worth of "Sangsang Share" lunchboxes for 12,000 lives to support the local community that is directly affected by Covid-19. The "Sangsang Share" lunchbox is a program through which the company purchases lunchboxes from the local marketplace and delivers them to welfare institutions in various areas. The "Sangsang Fund" money donated by the KT&G employees, was used to purchase the lunchboxes.

In the second half of 2020, KT&G donated 100 million KRW worth of clear masks for the hearing impaired who are experiencing communication difficulties due to the ongoing pandemic.
Welfare Foundation
In order to reinforce the support for vulnerable social groups in need through the pandemic, KT&G Welfare Foundation delivered hygiene products, vitamins, and snacks in addition to lunchboxes for the elderly, and also provided snacks, ginseng products, masks, and hand sanitizers to the local children's centers. In December of 2020, KT&G purchased 1 billion KRW worth of agricultural products from the struggling local farms and delivered them to 20,000 low-income households.

Scholarship Foundation
In June and October of 2020, the KT&G Scholarship Foundation donated 170 million KRW worth of scholarships to 167 children of small business owners in areas heavily impacted by the pandemic like Daegu/Gyeongsandbuk-do and the Seoul/Metropolitan area, and also delivered Sangsang scholarships to students from middle school, high school, and college, along with 150 million KRW worth of online class tools (includes tablet PCs), considering the non-face-to-face lifestyle after Covid-19.

Donation of overseas relief goods
As COVID-19 is spreading rapidly in overseas countries, KT&G provided 14,000 COVID-19 diagnosis kits valued at 200 million KRW to Indonesia, Russia and Turkey where we have overseas business outlets in order to fulfill our social responsibilities as a global corporation and to assist overcoming of the crisis. The diagnosis kits donated were delivered to the frontline medical sites including hospitals specializing in infectious diseases, etc. for use in quarantine against COVID-19.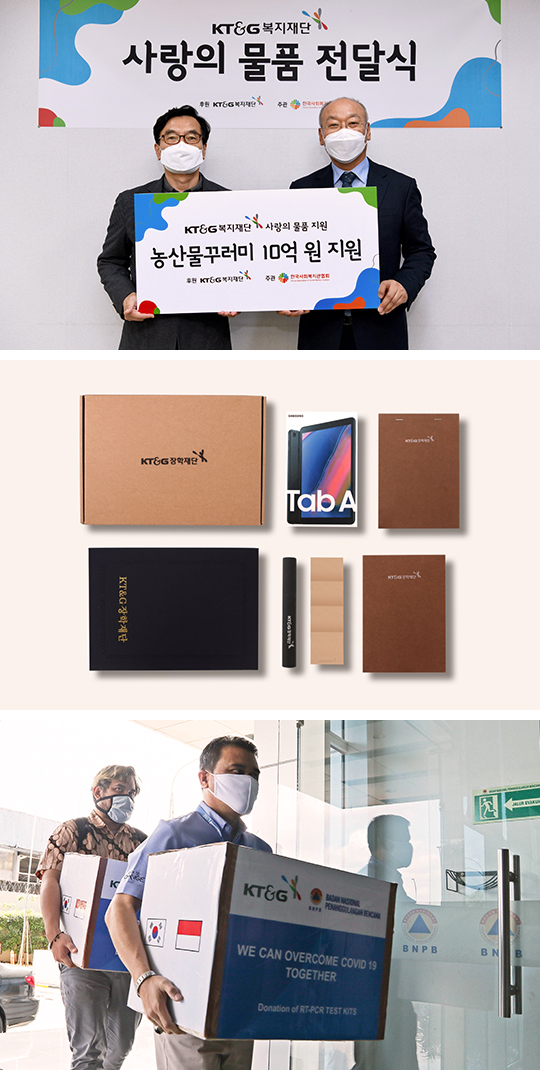 3 Mental Support
In 2020 March, KT&G participated in the 'Relay campaign to assist horticulture farms' to assist the horticulture farms experiencing extensive damages due to cancellation or reduction of variouis events and gatherings such as school graduation and enrollment ceremonies due to proliferation of COVID-19. Mr. BAEK BOK IN, the president of KT&G, delivered messages of gratitude and encouragement along with bouquet to our staffs on our anniversary and implemented an event of presenting bouquet to the family members of our staffs and executives in the Month of Family in 2020 May, which received highly favorable responses from our staffs and executives.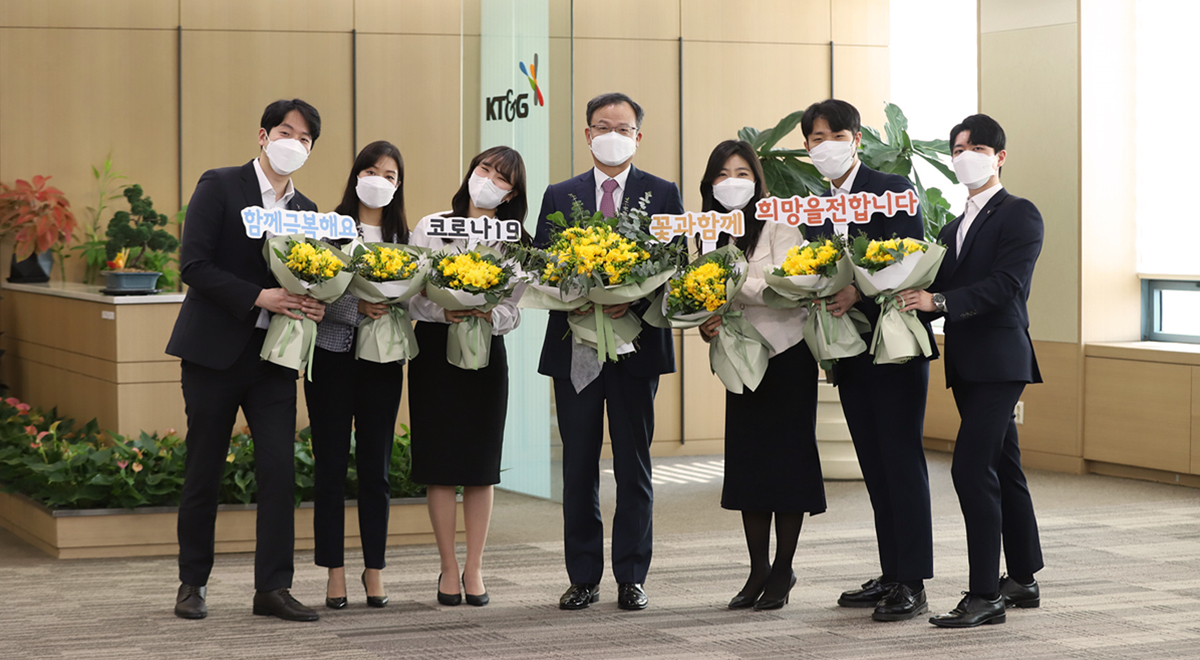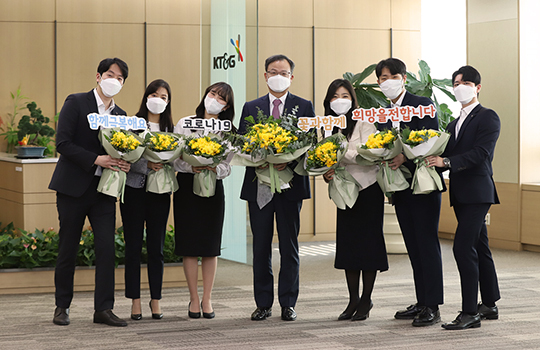 KT&G operated 'Family member' program, an in-house campaign in April to make contributions towards activation of the depressed local economy and to support domestic farming community due to COVID-19 pandemic. The 'Family member' program contains the significant of all the staffs and executives becoming members of family who are unified in overcoming COVID-19. Lunch boxes were purchased from the local traditional markets and provided to the staffs and executives during lunch hours. Moreover, event for promotion and sales of the agricultural products was executed in association with the local farms.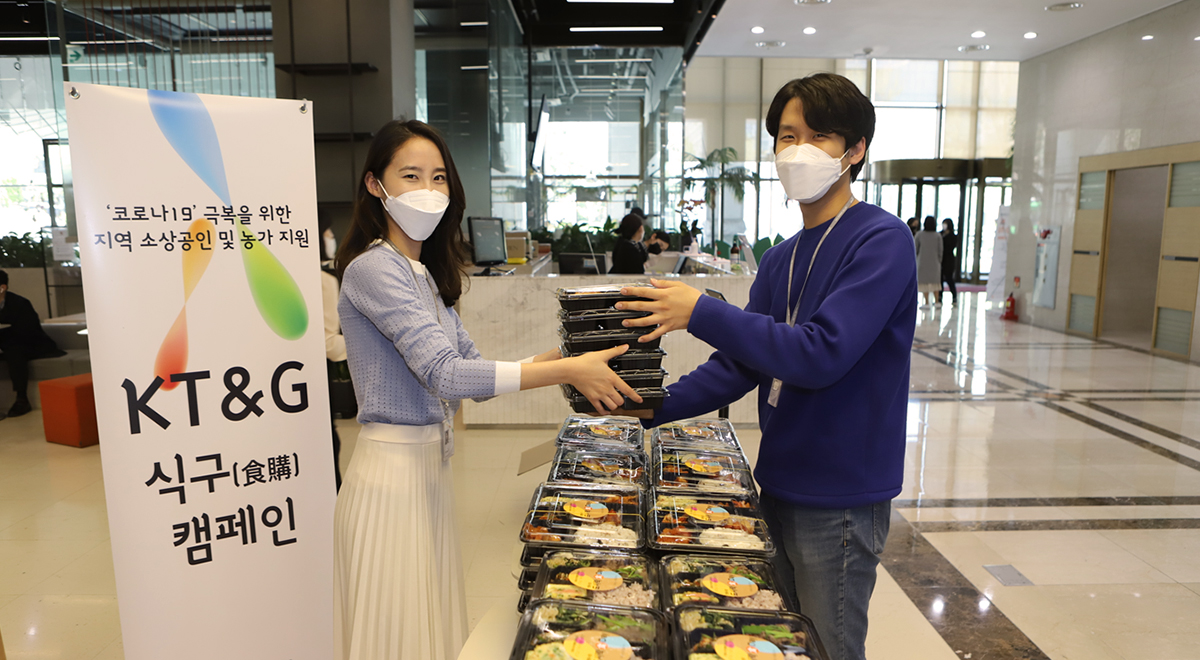 In the midst of increase in the number of people complaining of depression and lethargy due to proliferation of COVID-19, KT&G held 'Cheering badge challenge & open competition' to cheer up youth and to infuse vitality to our fatigued daily life by providing reasons to smile again. 'Cheering badge' campaign was planned to provide more cheerful ambience and reason to smile again by putting badge on masks. It was executed with open competition for badge designs by university students and SNS relay cheers simultaneously.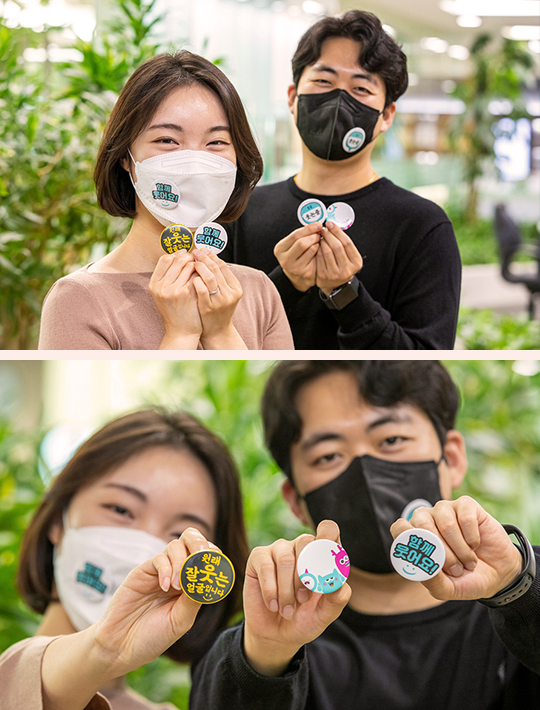 KT&G Sangsang Univ., a platform that continuously provided support for cultural and artistic activities of youth including provision of band, musical, dance and vocal classes by visiting the local youths since 2010, is continuing to execute local activities by assertively adopting untact format since the proliferation of COVID-19. It is operating 'In-the-house classes', which are online live lectures for viewer to watch lectures that are useful in daily life including cooking and dancing, etc.. Moreover, 'Sangsang marketing school' that has been operated since 2010 to cultivate future marketers with competencies is now being operated live broadcasting format through conversion into untact programs.

'Sangsang Madang', a representative cultural contribution platform of KT&G, is also being operated through establishment of untact program. 'Sangsang Madang Hongdae' is currently preparing untact indie performance without direct contact between the singers who lost opportunity to perform on stage due to COVID-19 and their fans. KT&G provides the venue and online video streaming companies planning the contents to be broadcasted through YouTube. Meanwhile, 'Sangsang Madang Nonsan' produced crafting and drawing education kits for children along with the KT&G Welfare Foundation, and delivered them to local childcare centers, thereby providing opportunity to experience culture and arts in untact format to children of low income classes.

In addition, KT&G participated in the "Hope Campaign Relay" in 2020 May. "Hope Campaign Relay" is a national relay campaign for passing on of hand-written messages of hopes and encouragement to those around you to overcome COVID-19. Through this campaign, we conveyed our gratitude to the health authorities, medical staffs and volunteers, and message of respect to the people of Korea who are putting in their utmost efforts to fulfill their responsibilities in overcoming COVID-19 in their respective positions in our society with mature civic minds.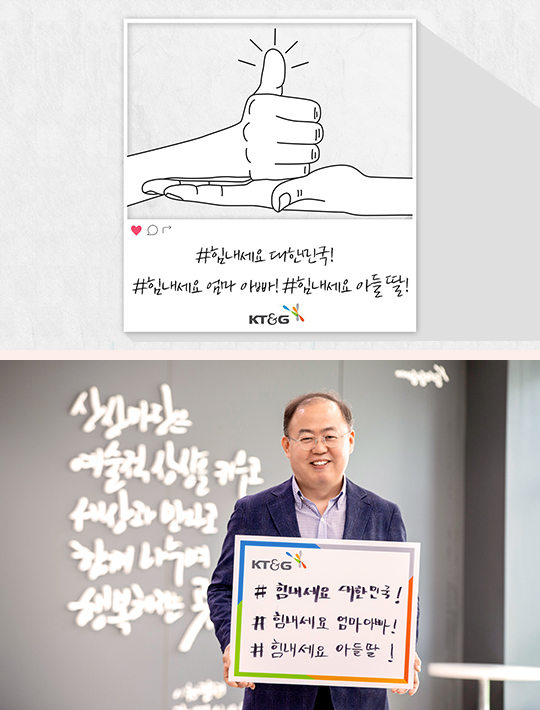 Additionally, KT&G's Sangsang Univ. Indonesia launched a donation campaign to support the local medical personnel and to spread the hopeful message. 3,000 people participated by sending out handwritten support messages and donated 1,000 sets (100 million KRW worth) of ginseng products to the 5 designated hospitals for Covid-19 in Jakarta.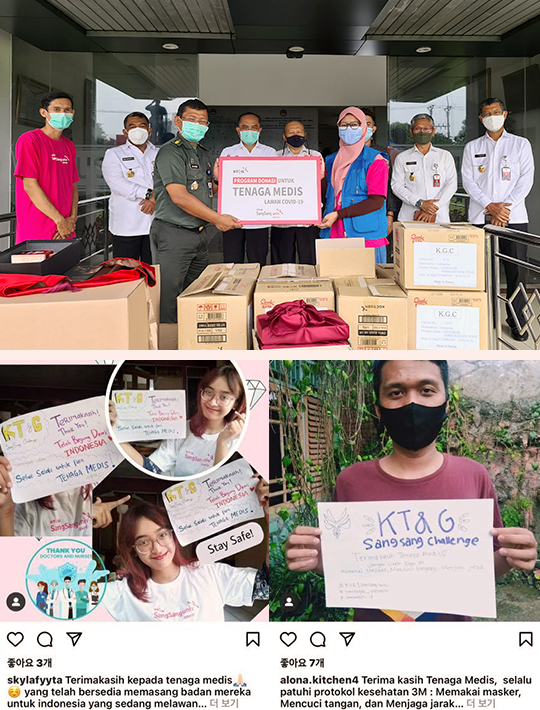 As illustrated above, KT&G is continuing with social contribution activities focused on people, that is constituent members within and outside our company. We firmly believe that such activities aimed at people will impart affirmative effects on our society and constituent members, which will in turn provide affirmative effects on companies. KT&G will assertively tread the path aimed at establishing a better world to live in by imagining the happiness of daily life we will enjoy again together.